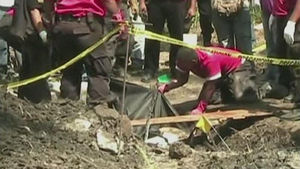 More than 34,000 people have died in drug-related killings in Mexico since 2006 - nearly half of those in the last year alone, government officials have said.
Police in Mexico have found 18 bodies in a mass grave near Acapulco following a surge in drug violence.
The deaths have occurred in the four years since President Felipe Calderon launched a military crackdown on organised crime and cartels.
A total of 34,612 have died, with the number of deaths jumping sharply from 9,616 in 2009 to 15,273 in 2010.
The figures were revealed by the Mexican Government's security spokesman Alejandro Poire.
He said around half of last year's killings had been in just three northern states, Chihuahua, Tamaulipas and Sinaloa.
Mr Poire added that the rate of killings grew in the first half of the year, but then stabilised and began to decline in the last quarter of 2010.
Many of the deaths are the result of turf wars between gangs.
Mexican President Felipe Calderon launched a crackdown on gangs in 2006.
Analysts have warned that the current rate of around 1,000 murders per month is set to continue, at least in the short term.
Gangsters could also try to influence several key state elections this year and the 2012 presidential polls.
Two small-town mayors have already been killed this year, and 15 decapitated bodies were found outside a shopping centre in the beach resort of Acapulco last weekend.
However, the government has pointed to a string of drugs hauls and the deaths or arrests of around half of 37 top gang leaders in the past two years as signs of success in its clampdown.