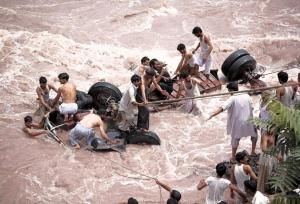 Pakistan's worst floods in 80 years have killed at least 1,600 people and affected the lives of more than four million, the UN said yesterday.
The UK's Disasters Emergency Committee (DEC) said that aid from its members was reaching over 300,000 survivors, with many UK charities distributing food, water purification tablets, shelter, medicine and hygiene kits by raft, boat and donkey. Last night the actor Art Malik and the former hostage John McCarthy presented new TV and radio appeals.
Brendan Gormley, DEC's chief executive, said: "These devastating floods have left millions fighting to survive with little food, clean water or shelter. As monsoon rains continue unabated, the situation is deteriorating and the speed of our response is vital."
The raging waters have spread from the north-west to the Punjab, the country's agricultural heartland, and further south to the province of Sindh.
Amid the devastation anger has grown at President Asif Ali Zardari's refusal to cancel state visits to France and Britain.
Officials in Sindh, home to Pakistan's biggest city and commercial hub, Karachi, are scrambling to prevent heavy loss of life as the waters near.
The Pakistani meteorologist Hazrat Mir said the floods were moving swiftly across north Sindh and would enter the town of Sukkur by Saturday.
"What we [are witnessing] is a sea of people in need," said Manuel Bessler, head of the Pakistan bureau of the UN Office for the Co-ordination of Humanitarian Affairs. "It is an evolving emergency. We are afraid it will get worse before it gets better."
In Sukkur, children, their homes swept away, helped their parents to set up shelters of clothes and plastic sheeting on the roadside as they waited in hope of rescue, or aid. Nearby, elderly villagers puffed on traditional water pipes in an attempt to regain some normality.
"I've lost my house, my food. We have nothing. Nobody has come to us," said Ali Nawaz. Around 350,000 people have been evacuated from low-lying areas of the Indus river basin in Sindh.
President Zardari, already squeezed by a Taliban insurgency and chronic power cuts, is facing further pressure over his decision to travel abroad during the catastrophe.
With help from the government not forthcoming, Pakistanis have been forced to innovate to survive, using hand-operated pulleys to move people on wooden planks across rivers where waters have brought down bridges. In Sanawa village in Punjab, a Pakistani soldier carried an elderly man to a helicopter, while a crowd waited around a nearby mosque, some waist-deep in muddy water, hoping for supplies to come.
Authorities in Sindh said treacherous conditions were hampering evacuation efforts, but added that villagers were also reluctant to leave their homes.
Determining the overall cost of rebuilding once the waters subside will not be possible until officials are able to survey the vast swathes of the country affected. Pakistan already relies heavily on foreign aid, and the disaster is likely to have a crippling effect on its already fragile economy.
At least 1.3 million acres of crops have been destroyed in the Punjab, meaning that more government money will have to be spent on importing cotton for the textile industry, while staple crops such as rice have been badly affected.