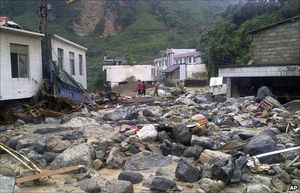 At least 17 people have been killed and dozens more are missing after a series of landslides in south-west China, state media says.
The landslides, which were triggered by days of heavy rain, struck three rural communities in Sichuan and Yunnan provinces.
Four people were killed and 42 others were missing after one landslide in Xiaohe in Yunnan's Zhaotong city.
In Sichuan, two separate landslides left 13 people dead and two missing.
Meanwhile further to the west in Qinghai province, 10,000 people have been evacuated from the area around an overflowing reservoir.
Teams are trying to dig a channel to drain the reservoir, which has been filled far beyond capacity by recent heavy rain.
It is the latest in a spate of weather-related incidents to hit China. Although seasonal, the rains are particularly heavy this year and disruption is severe.
At least 43 people had died and 18 were missing after heavy rains along the Yangtze River in central and eastern China since 8 July, state media said.
Reservoir fears
In Xiaohe in Yunnan, an official said that the side of a mountain crashed down on houses.
"The township is located in a river valley surrounded by mountains, people were buried in their homes," the government official, who asked not to be named, told AFP news agency.
The other two landslides struck Yandai village in Garze and Sima village in Luzhou city.
Search teams were working at all three sites, Xinhua news agency said, and relief supplies had been sent to Xiaohe.
In Qinghai, soldiers were using bulldozers to cut a channel to drain water from the Wenquan reservoir, Xinhua reported.
If it bursts, the reservoir could damage the nearby Qinghai-Tibet railway, along with the city of Golmud's power and water plants, the agency said.
Some parts of the city are reportedly already under 2m of water.
Xinhua said the soldiers hoped to start draining the reservoir within the day.