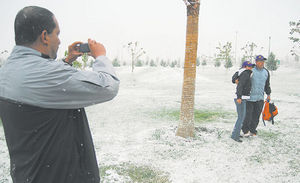 The 50th cold wave entered Friday night to the [Chihuahua] State, and caused a
snowfall in 18 municipalities. The snow reached 18 centimeters in Ignacio Zaragoza and 12 centimeters in Gomez Farías.
In the state capital, the weather phenomenon took people by surprise, since for 32 years it did not snow in May, said spokesman of the State Civil Protection Unit, Martín de la Rosa.
The municipalities that were covered in white from the early hours of Saturday are: Aldama, Aquiles Serdan, Bocoyna, Buenaventura, Casas Grandes, Cuauhtémoc, Chihuahua, Galeana, Gomez Farias, Guachochi, Guerrero, Ignacio Zaragoza, Madera, Matachi, Ocampo, Riva Palacio, San Juanito and Temosachic. It also snowed in San Juanito, Creel, Cusárare and in the region of Divisadero.
In the areas of Rubio and Anahuac, snow fell more intensely, while the inhabitants of Bachíniva, Namiquipa and Riva Palacio, also reported to the Civil Protection Unit of this phenomenon.
In the capital, a light rain began between 4:00 and 5:00 am, with a temperature of 3 degrees Celsius and a wind chill of -2 degrees, about 7:00 am the first flakes of snow began to fall, and the largest ones were found in the south of the city.
In 1982 there was a climate very similar to the one of yesterday in the capital. The snow came as a surprise to the Chihuahuans who went out to go to work, and in most cases they had to bring out again their jackets.
The spokesman for the State Civil Protection Unit (UEPC), urged people to exercise extreme caution as the weather will continue to be cloudy and wet later in the day, but rain was ruled out for today.
"The 50th cold wave that caused the snow, continues on his way to the south of the state, so there is a possibility of snow in that region," concluded Martin de la Rosa.