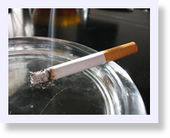 After lighting up are you experiencing more headaches, stomach cramps or a coppery taste in your mouth? Does your new FSC (fire-safe cigarette) taste bad, cause dry mouth and are you coughing more?
New York State was one of the first states to require that cigarettes be made with the new fire-safe paper. This paper is constructed by gluing two or three thin bands of less-porous paper together with an ethylene vinyl acetate copolymer emulsion based adhesive (carpet glue).
These papers have bands (see image) that act as speed bumps, so if the cigarette is left unattended it will self-extinguish. The coalitions that passed these laws believe that these cigarettes would limit the number of cigarette fire deaths.
Though this law was passed in 2004, the number of deaths caused by fires from cigarettes hasn't been greatly reduced, but complaints from smokers all over the U.S have multiplied.
Read more at
Examiner.com
.