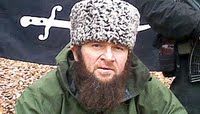 While Russian investigators
claim
to have found new leads in their search for the "terrorists" who killed at least 26 people traveling on the
Nevsky Express
between Moscow and St. Petersburg, the "Caucasian Mujahadeen," under the orders of its leader, Doku Umarov, have claimed responsibility for the November 27 bombing.
Intriguingly, the Kremlin's top banker, Boris Yevstratikov, was killed in the blast and derailment.
On Monday Prime Minister Vladimir Putin linked the
Nevsky Express
bombing with an explosion that occurred that day on a railway line in the internal Russian republic of Dagestan. The Tyumen-Baku line connects southern Russia with the "former" Soviet republic of Azerbaijan. Russia's KGB-communist dictator called the Dagestan bombing a "second terror attempt." No one aboard the second train was hurt and the locomotive sustained only superficial damage from the blast. After Monday's attack, the Kremlin-run rail monopoly, Russian Railways,
stated
: "Traffic on the railway is closed. Employees of Russian Railways, law enforcement bodies, the FSB [Federal Security Service] and emergency services are working at the scene.'"
In a statement posted at the pro-Chechen website Kavkazcenter.com, Russia's most-wanted rebel Umarov
declared
: "Today, we carry out sabotage operations on electricity transmission lines, oil-and-gas-wires. Many of the operations are under preparation status. We intend to conduct such diversions in future, which are the just acts of vengeance... These diversions will continue for as long as the [Russian] occupants [occupiers] in the Caucasus will not stop its policy of killing ordinary Muslims purely on religious grounds." BBC News affirms that "Kavkazcenter.com has carried statements before by North Caucasus groups claiming responsibility for attacks on Russia that have turned out to be correct."
Chechnya's rebel president Umarov succeeded Abdul-Khalim Saydullayev in June 2006 after the latter was killed in a police operation. Saydullayev, in turn, succeeded Aslan Maskhadov, who was killed by Russian forces in March 2005. In October 2007 the 45-year-old Umarov was
proclaimed emir
of the "Caucasus Emirate," an aspiring Islamic state spanning several internal Russian republics in the North Caucasus. Umarov also served as Chechnya's security minister during its short-lived independence between 1996 and 1999.
Umarov reportedly commands 1,000 fighters and had led several "high-profile" raids. He is believed to have played a "key role" in organizing an attack in Ingushetia in June 2004, in which several dozen people, including the acting Ingush interior minister were killed.
The FSB/KGB accused Umarov of leading the September 2004 school siege in Beslan
, North Ossetia, which resulted in more than 300 deaths, including many children. In
January 2005
and again in
June 2009
Kremlin officialdom pronounced Umarov "dead" after the warlord's guerrillas clashed with Russian troops.
Incidentally, notes BBC News, the Kremlin's allegation against Umarov regarding the Beslan tragedy have never been substantiated. This, we might add, is probably because the Soviet strategists
perpetrated the act
to promote the myth that Russia, like the USA, is a victim of Islamic terrorism. Thus, when one day, in the not-too-distant future, Muslim terrorists (Spetsnaz) detonate a "suitcase nuke" in a US city Moscow will have "plausible deniability."