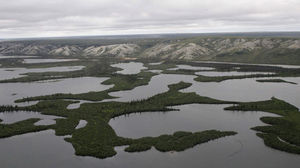 Increasing demands on Canada's fresh water is putting rivers at risk, according to a new report.
Growing more food, generating more electricity, expanding cities and industry are all taking a toll on Canada's rivers, according to the World Wildlife Fund Canada.
The report released Thursday,
Canada's Rivers at Risk: Environmental Flows and Canada's Freshwater Future
, examines the health of 10 major rivers from the perspective of water flow.
"As temperatures rise, and industrial water withdrawals and interest in hydropower increase, we must start planning now to protect river flows to ensure water security for the communities and economies that depend on them," said Tony Maas, director of fresh water with WWF-Canada.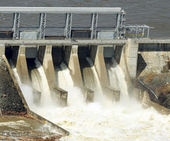 to the report, the biggest threats to the flow of Canada's rivers are climate change, growing water demands and the pursuit of low-carbon energy, which is driving the construction of new hydropower projects.
The three factors are causing changes in water patterns, affecting water levels and altering the flow of rivers, the report says.
Flow regimes in some of Canada's most important rivers, such as the South Saskatchewan and the St. Lawrence, have been modified to the extent that ecosystems are in serious trouble, according to the report.
South Saskatchewan River most threatened
The report says the South Saskatchewan River is Canada's most threatened river. Hundreds of dams exist throughout its watershed and about 70 per cent of its flow is being redirected for use by cities and agriculture.
The document warns that other rivers, including some of the planet's increasingly scarce large free-flowing rivers like the Skeena, the Athabasca, and the Mackenzie, could soon be in trouble.
Other rivers in the report include:
Fraser River
Nipigon River
Grand River
St. Lawrence River
St. John River
Ottawa River
The federal government needs to play a much stronger role in Canadian water stewardship, the report says.
WWF-Canada president Gerald Butts said water is Canada's most important national resource and national leadership is required "to steward it wisely to ensure that future Canadians can benefit from it."
Federal and provincial governments must collaborate with a broad range of stakeholders for the conservation, management and development of Canada's water flow, the report says.
The WWF-Canada also recommends that Canada develop a long-term plan regarding river water flow that includes an examination of the effects of climate change.
"Demand for water is expected to increase as temperatures rise, making protection of environmental flows even more challenging," the report says.
Canadians must also be responsible and make efforts to ensure they draw water within sustainable limits, the report says.