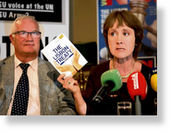 Former MEP Patricia McKenna has claimed that a booklet on the Lisbon Treaty produced by the Referendum Commission is "not impartial". She was speaking in Dublin yesterday at the launch of the People's Movement campaign against the treaty, which was also attended by artist Robert Ballagh and former Danish MEP Jens Peter Bonde.
"I think the most worrying and damaging aspect of this campaign to date is this booklet, which has been distributed to every home courtesy of the taxpayer," she said.
"This booklet is not balanced; it is not impartial, it is clearly designed in such a way as to reassure people that the Lisbon Treaty is fine and you can vote for it. While it doesn't directly say 'Vote Yes' [but] it may as well do so."
A spokesman for the commission rejected Ms McKenna's comments. "The Referendum Commission guide is accurate and impartial, as is required by law," he said.
Ms McKenna also claimed the National Forum on Europe was "deliberately closed down" because it provided an opportunity for anti-Lisbon Treaty speakers to express their views in public.
"That [the forum] has been gotten rid of because it was a means whereby both sides of the argument could be heard," she said.
In June, Taoiseach Brian Cowen told the Dáil the decision to close the forum had been made because of the "necessity to review all areas of expenditure".
The People's Movement, according to its website, "campaigns against any measures that further develop the EU into a federal superstate and works to defend and enhance popular sovereignty, democracy and social justice in Ireland". Ms McKenna, a former Green Party member, is the movement's chairwoman.
Mr Ballagh, who was described at yesterday's event as a patron of the People's Movement and an activist, said the legal guarantees the Government had obtained were "worthless".
He added: "But they're not worthless to the Government because they provide a carefully-constructed political fig leaf to cover what would be their total embarrassment to run the same treaty again this year that was rejected by the Irish people last year."
Minister for Foreign Affairs Micheál Martin rejected the arguments put forward by the People's Movement.
He was speaking at an event in Government Buildings to announce details of the Global Irish Economic Forum to be held at Farmleigh in September. Mr Martin said there would be a fundamental change in the nature of Ireland's engagement with Europe in the event of a No vote.
"Can we really, hand on heart, say we are at the heart of Europe if having receipt of all those guarantees we still say to the other 26 member states we know you want to progress with modest reforms . . . but we're really not going along with you," he said.
A No vote would send a signal that Ireland was "becoming more inward-looking" and wanted to "move to the margins", Mr Martin said.