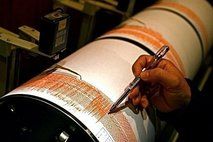 A powerful earthquake with a preliminary magnitude of 6.6 hit Tokyo and nearby areas shortly after dawn Tuesday, halting trains and forcing two nuclear reactors to be shut down for safety checks.
The U.S. Geological Survey said another, unrelated quake with a 7.6 magnitude hit the Indian Ocean about 160 miles (257 kilometers) north of Port Blair in India's Andaman Islands. A tsunami watch was called for India, Myanmar, Indonesia, Thailand and Bangladesh. The caution was later lifted without any tsunami being recorded.
The Andaman Islands quake was reported to be 20.6 miles (33.15 kilometers) deep, the U.S. Geological Survey said. On Dec. 26, 2004, about 230,000 people were killed in a dozen countries around the Indian Ocean when a magnitude 9.0 earthquake triggered a tsunami.
In the Japan quake, there were no immediate reports of serious damages or injury, although a boy was reportedly hurt when a TV fell on his leg and three elderly people were hurt slightly when they were hit by falling objects or slipped and fell.
Japan's Meteorological Agency also issued a tsunami warning from the Japanese temblor early Tuesday, which centered off the Suruga Bay, southwest of Tokyo. The warning was also later lifted. The quake occurred at a depth of 12 miles (20 kilometers). Public broadcaster NHK said a small increase of waves of some 10 inches (30 centimeters) was observed along the coastline of Yaizu City.
Central Japan Railway Co. has suspended operations of Shinkansen bullet trains, while the central government set up a task force at the prime minister's office, Kyodo reported.
The quake rattled furniture and walls, and broke show windows and ceramic roof tiles on older homes. But there have been no immediate reports of serious damages or casualties.
Local trains and two reactors at the Hamaoka nuclear power plant were temporarily halted for safety checks. No damage was reported, however. Reactors are automatically shut down whenever a quake of a certain strength is registered.
NHK said a 5-year-old boy suffered a leg injury when he was hit by a falling TV set and small landslides were reported in the town of Nishi Izu, but there were no injuries, said town official Mieko Hayama.
Japan has recently been hit by heavy typhoon rains, and officials warned residents in mountainous areas to be cautious because the ground may be loose and landslides may be generated by the quake or aftershocks.
NHK also reported that two older people were hit by falling objects, and another tripped and fell and was slightly injured.
Kinichi Tashiro, an emergency official at the Yaizu city fire station, said officials were currently touring the coastal areas in the city to monitor the situation, but he has not received any reports of damage.
"I was in the bathroom just as the quake hit. It shook rather violently," Tashiro said in a televised interview with NHK. Tashiro said there was no damage to his home and observed no major problem in the neighborhood as he rushed to the office.
A magnitude 6.9 quake rattled the region Sunday, but caused no damage or casualties. The U.S. Geological Survey measured it at magnitude 7.1.
Japan is one of the world's most earthquake-prone countries, and experts believe Tokyo has a 90 percent chance of being hit by a major quake over the next 50 years.
In 1995, a magnitude-7.2 quake in the western port city of Kobe killed 6,400 people.
AP writers Grant Peck in Bangkok, Anthony Deutsch in Jakarta and Tim Sullivan in Delhi contributed to this report.