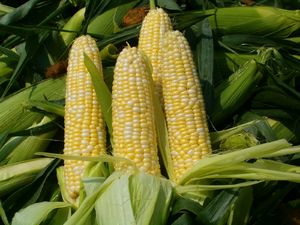 Unusually cold weather in Michigan these days. Smack dab in the middle of July, we are having to close the windows because it's too cold outside. I still haven't run the ac yet this year. These weather patterns have other consequences. Just a couple of weeks ago, I reported that the Northern Michigan Cherry Festival was without northern Michigan cherries! (
I blame Global Warming! Northern Michigan Cherry festival to be without Northern Michigan cherries. Not ripe yet because of cold!
)
I kid you not! They had to import cherries from elsewhere!
And before that, the strawberry crop had been delayed (
I blame global warming! Cool weather delays Michigan strawberry season
). Is no crop safe from global warming? Er, I mean - climate change? Not corn or tomatoes apparently! From The Detroit Free Press:
Ahh, summer. And we're chillin
'?
Those with a hankering for Michigan sweet corn or tomatoes may have to wait an extra week because of a cooler-than-normal July -- one that meteorologists say could go down as one of the chilliest ever.

"Things just aren't ripening as fast as they should be and that's because it's not hot enough during the day," said Joe Fogler, 30, who works at his family's farm in Rochester Hills.

The average daily high for July is 84 and the average low is 64, said Karen Clark, a meteorologist with the National Weather Service in White Lake Township.

Currently, halfway through the month, average temperatures are running about five degrees below normal because of wind patterns out of Canada that are bringing cooler air south.

The record for the coldest summer high in metro Detroit is 50 degrees, which happened in September in 1918, 1913 and 1875. The record low was 30 degrees, set on Sept. 22, 1974.

The region could tie or break a 123-year-old record today -- the coldest high temperature for July 18 is 69, set in 1886, and the forecasted high today is 70, with a few showers.
This phenomenon is not unique to Michigan by the way. The planet is on a cooling trend. Never mind that Obama still wants to tax us for making the planet warmer as it is getting cooler. (huh?) In fact, here is a temperature timeline from
AlGoreLied
: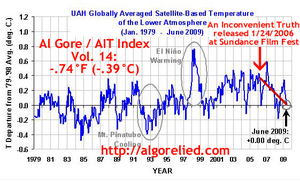 The Free Press is trying to make the best of it, however, with this article:
Enjoy the mild weather, low electricity bills
. Won't be that much lower since electric rates are on the rise specifically because of Granholm's renewable energy portfolio that was set into law recently forcing 10% of our electricity be generated by renewables. This is forcing companies to install wind turbines where they are best not installed. Rates have been rising ever since.
In any case, back to the cold,
Powerline
(HT:
Instapundit
) had this today:
A Year Without A Summer
? I don't know about no summer. But certainly milder than any in my lifetime.
I don't think things are quite so bad this year, but if something doesn't change pretty soon 2009 may go down in history, in some parts of the U.S. at least, as another year with barely any summer. Here in Minnesota and across the Midwest, temperatures are abnormally cold. I don't know whether the phenomenon is world-wide--data that will answer this question have probably not been assembled, and may not be honestly reported--but the current low level of solar activity suggests that the cooling trend could indeed be universal.
Read the whole thing, which hearkens back to the lost summer of 1816. And yes, it's global (see above graphic).