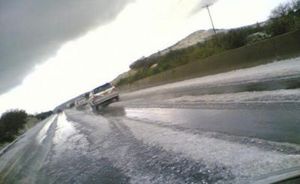 A freak twister and hailstorm swept through Larnaca yesterday, uprooting trees, tearing off rooftops and snapping power cables.
All it took was five minutes for the storm and whirlwind, which broke at the same time, to wreak havoc on the town and its outskirts, as walnut-sized hail stones struck homes and the fierce wind shook cars.
The worst happened in the area near the Antonis Papadopoulos stadium and the Kokkinos refugee settlement. Debris sucked by the twister was hurtled on vehicles, kiosks and residences.
Heavy hail fell on the section of the Nicosia-Larnaca highway close to the suburb of Aradippou and the roundabout junction. Traffic was briefly affected as motorists slowed down to cope with the slippery conditions.
A few minor accidents, involving two slight injuries, took place on the Larnaca-Ayia Napa highway, as cars on both lanes were forced to pull over to the side of the road until the storm died down.
The villages of Athienou, Leivadia, Oroklini, Pyla and Dasaki were also affected.
The police, Fire Department and Civil Defense responded to dozens of calls from distressed residents.
The twister near the football stadium left residents shell-shocked.
"
Never in my life have I seen such a thing
," said Eleftheria Pavlou, whose sun lounge window was smashed by flying debris.
Frightened residents told how their cars wobbled when caught in the eye of the tornado.
Interior Minister Neoclis Sylikiotis, who rushed to the worst-hit areas, pledged the government would provide immediate assistance wherever properties were damaged.
A damage assessment had begun, he added, assuring all those affected by the weather that they would be compensated.
"I would like to tell people not to worry. We shall be doing our best to solve any problems caused by the wrath of nature," Silikiotis said.
"Unfortunately, we cannot avert the wrath of nature. We don't have that power yet. All we can wish for is that the people suffering the damages can keep a cool head and deal with the situation."