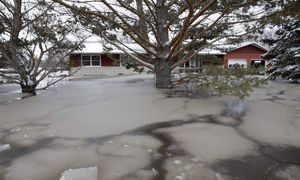 Bismarck - Demolition crews blasted chunks of ice near a huge ice jam in the Missouri River on Wednesday in a bid to open a channel, like pulling out a giant plug to drain a flood threatening the city. "We are cautiously optimistic," Bismarck Mayor John Warford said after explosives detonated on about 500 feet of ice just south of the jam. He said officials would have a better assessment Wednesday night but that water appeared to be moving.
Water backing up behind the dam of car-size ice blocks already had forced the evacuation of about 1,700 people from low-lying areas in North Dakota's capital.
Meanwhile, on the eastern side of the state, volunteers continued stacking sandbags to protect Fargo amid new concern over the rising Red River. After days of predicting a crest ranging from 39 to 41 feet, the National Weather Service settled on the higher number.
City officials said they would build their dikes a foot higher than planned, to 43 feet, and would distribute evacuation information to residents on Thursday. The river was projected to crest on Saturday afternoon.
Mayor Dennis Walaker described 41 feet as "uncharted territory." The Red's record high at Fargo was 40.1 feet in 1897. Walaker said he was still confident the city would beat the flood, but that contingency plans were needed.
Worries about evacuations
Police Chief Keith Ternes urged people with disabilities to consider leaving the city, saying: "If they expect us to get to them and get them out, they should give serious consideration."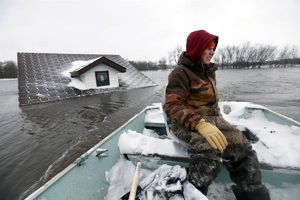 In Bismarck, the Missouri River jam was created by ice floating down the Heart River, with some chunks up to 3 feet thick and the size of small cars. The jam was about 11 miles downstream from the city.
"The ice is just solid as a rock," Assistant Water Commission Engineer Todd Sando said.
Source: Associated Press
Crews from Advanced Explosives Demolition, with help from National Guard, the Army Corps of Engineers and the Coast Guard, drilled 80 holes in the ice to detonate clay-like explosives. Greg Wilz, North Dakota's homeland security director, said a second set of explosives was being considered for later Wednesday, along with salt to help speed the breakup and backhoes to break up ice sheets near the river's west bank.
Roger Kay, an Army Corps of Engineers hydraulic engineer, said ice downstream from that jam appeared to be melting and weakening, meaning less resistance once the jam is broken loose.
"The ice is showing signs of becoming more rotten," Kay said.
A second ice jam about 10 miles upstream of Bismarck was also a concern, holding back a growing reservoir.
The National Weather Service posted a flash flood warning for a three-county area, saying the integrity of that ice jam, in an area called Double Ditch, was unpredictable.
'Grabbed a bag ... and left'
Residents of low-lying subdivisions in Bismarck and neighboring Mandan had been told to evacuate, and Fox Island residents Jane and Michael Pole didn't need much prodding. "We just grabbed a bag, threw some stuff in and left," Jane Pole said.