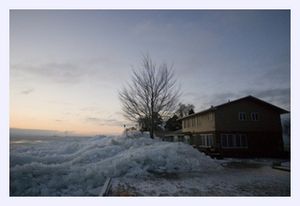 Tim Boutell said he and his wife heard the screech of "metal on metal," and then screamed themselves Sunday night as walls of ice pushed toward their Kawkawlin Township home along Saginaw Bay.
"About 9 p.m. my wife, Beth, heard some noise and I kind of disregarded it until she went downstairs to peek outside, and she obviously screamed. And then I looked out and saw the ice piled up and moving toward the house," said Tim Boutell, 50, owner of one of about 36 Bay County homes evacuated due to invading ice.
Boutell said he told his daughters, who were watching TV, to get up, get a bag and get out.
"Then (we) went down knocking on the doors of a few older folks who lived out here," Tim Boutell said. "We got them out, and then got out."
Residents evacuated about 36 homes near the shore of Saginaw Bay on Sunday night as wind-driven ice floes crushed into houses, according to police.
Ice had entered as far as 12 feet inside some of the homes, according to troopers at the Michigan State Police post at Bay City. Troopers didn't report any injuries.
Dispatchers sent police to the scene in Kawkawlin Township along Linwood Beach Road, near Boutell Road, at 10:30 p.m. after residents along Linwood, Killarney and Brissette beaches began calling.
As residents began evacuated their homes, state police troopers were assisted by the Kawkawlin Township Fire Department and workers from Consumers Energy, who turned off gas to some houses. Residents were advised to shut off the main power to their homes.
Strong, persistent northeast winds on Sunday caused the ice damage. National Weather Service meteorologists said winds came from the northeast - from 15 to 32 mph - for 11 consecutive hours, from 1 p.m. Sunday to midnight.
The ice was moving about 20 feet every half hour and there was nothing anyone could do to stop it.
One Linwood Beach home that was evacuated last night had piles of ice sitting in the living room as the sun came up this morning. The ice busted through a front window, spilling chunks of ice inside the home.
But the ice seemed to pick and choose where it attacked.
At one spot, a boat hoist is a crumbled mass of metal. Next door, another hoist is virtually unscathed.
With mountains of ice in their front yards, John Grendel and Dave Wagner consider themselves lucky.
Wagner, a Michigan State Police trooper, said it was amazing how fast the mountain of ice came to shore. Both he and Grendel had kept an eye on the ice all day Sunday as the wind came from the east.
"(The ice) came up a little during the day," said Grendel.
But around 8:30 p.m., he walked outside and saw ice piling up on the shore. He sent his wife, Hope, and three children into town. He began alerting neighbors.
"It looked like glaciers coming in," he said.
And although their homes are safe now, both men say the even makes you realize what's important.
"In this day and age, there is nothing material that's important," Grendel said. "It's all about family."