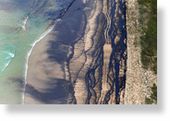 Premier Anna Bligh says a massive oil spill of up to 100 tonnes that is blanketing the once pristine southeast Queensland coastline could be the state's worst environmental disaster.
Premier Anna Bligh has declared Moreton Island, Bribie Island and parts of the Sunshine Coast as disaster zones.
Ms Bligh told AAP the amount of oil that had leaked was a lot more than the original 30-tonne estimate.
"It may well be the worst environmental disaster Queensland has ever seen," Premier Bligh said.
"We know that the ship was capable of carrying 100 tonnes so it could be anywhere between 30 and 100, but it is certainly significantly more than the 30."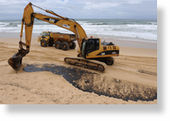 A 20-strong national response team, manned by experts, had been activated to help deal with the massive oil spill from a cargo ship caught in cyclonic seas on Wednesday, she said.
Beaches are blanketed with oil from the Hong Kong flagged ship
Pacific Adventurer
as a massive clean-up is under way.
The reason why the ship was out in cyclonic seas would be the subject of a full investigation, Ms Bligh said.
"If there is any grounds for prosecution of this ship and its owners we will not hesitate to take that action.
"We will also be pursuing them for compensation as this is going to be a very big clean-up cost and I want those ship owners to be paying for it."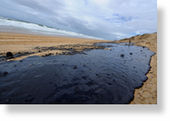 The clean up is a delicate operation as beaches had already been eroded from the high tides after ex-tropical cyclone Hamish battered the coast over the past week.
The national response team is a team of experts brought in from other states who would assist and relieve those already cleaning up the spill, she said.
Moreton Bay councillor Allan Sutherland, who has inspected the northern end of Bribie Island, told ABC Radio the oil had dispersed overnight thanks to high tides.
"A lot of the sand that has been pulled from the dunes with the high tides is helping disperse the oil so mother nature is on our side at the moment," he said.
The cargo ship also lost about 620 tonnes of ammonium nitrate overboard.
The full extent of wildlife affected by the spill was yet to be realised, Environmental Protection Agency spokesman Clive Cook told ABC Radio on Thursday.
"The flow-on effects of oil spills can be substantive," he said.
"The longer-term impacts are yet to be realised."
So far seven pelicans, one turtle and a few other birds had been found covered with oil, but there would be more to come, he said.