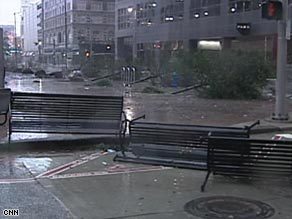 ©CNN
Park benches are strewn about in downtown Houston Saturday during Hurricane Ike.
Galveston, Texas -- Rescuers in Galveston, Texas, were going door-to-door Saturday to check on the estimated 20,000 people who failed to flee Hurricane Ike, which has slowed to tropical storm status.
As of Saturday afternoon, the Galveston Fire Department had taken 27 people to a shelter in a high school on the coastal island, which was without electricity or water pressure.
No casualties had been discovered so far in the search and rescue efforts, which have been hampered by heavy flooding and scattered debris.
"We are in a recovery mode," Galveston Mayor Lyda Ann Thomas said in a press conference Saturday afternoon. "This eye came right over us, stayed a while and went on, but it brought a lot of damage to our city."
Galveston City Manager Steve LeBlanc said the island would be closed while authorities assess damages, including to the causeway, which was in "bad shape" because of debris and road damage.
"The road buckled in a number of places," LeBlanc said. "Even if we opened it up you couldn't get through."
LeBlanc said 17 buildings on the island had been destroyed, including ten homes that caught fire and a boat storage warehouse that was set ablaze as Ike approached.
The other buildings fell because their structures were battered by winds and storm surge, LeBlanc said.
Ike was downgraded Saturday to a tropical storm 11 hours after it crashed ashore as a Texas-sized hurricane that walloped southeast Texas and southwest Louisiana.
The storm's sustained winds dropped to 60 mph as it moved north across Texas, expending its power along the way.
President Bush declared 29 Texas counties a major disaster area, making federal funds available for recovery from the storm, which has been blamed for four deaths in Texas.
Texas Gov. Rick Perry's office announced what it called the largest search-and-rescue operation ever mounted in the state. Lines of National Guard trucks and ambulances were coming in from San Antonio.
In Galveston, which bore the brunt of the storm, floods filled the historic district with 7 feet of water at the storm's peak, said Galveston County official Margaret Bunch.
A foot of water flooded the city's main courthouse, where many people rode out the storm, she said.
Wanda Collins' garage filled with 5 feet of water, ruining everything inside, including a 2002 pickup truck, two Harley-Davidson motorcycles, a freezer and a washer and dryer.
"I have never in my life seen water like this," the 30-year Galveston resident said.
A fire broke out at a Galveston yacht basin, where boats are stored and fixed, said Galveston Fire Chief Michael Varela Sr., and firefighters were unable to reach it because the area was flooded with about 8 feet of water.
Curfews are in place in Galveston until dawn Monday and in Houston's Harris County until 6 a.m. Sunday.
Houston Mayor Bill White said his city appears to have avoided loss of life, but streets blocked by floodwaters, downed trees and power lines hampered efforts to determine the full extent of the damage.
Authorities shut down downtown Houston, where the streets were littered with debris, including traffic lights and glass, for cleanup and damage assessment. The city's tallest skyscraper, the 75-story JP Morgan Chase Tower, was missing many of its windows.
White advised residents to drink bottled or boiled tap water as a precaution after a power outage reduced water pressure, but he said nothing indicated that the water supply was contaminated.
Nearly 2.6 million customers in Texas and Louisiana lack power because of Ike, the U.S. Energy Department said on Saturday.
"It's going to take several weeks to get all this power restored," CenterPoint Energy spokesman Floyd LeBlanc said. "We've been saying two to three weeks."
iReporter Jackie Hensler of Houston said her apartment building's power was restored quickly on Saturday morning after a stormy night.
"There are lots of trees down; they've been uprooted or snapped," she said after venturing outside. "There's lots of debris in the streets, like boards and plywood from homes."
Brennan's, a popular restaurant in downtown Houston for almost four decades, burned down Friday night as Ike battered the city.
Hurricane Ike proved to be a huge storm system, 900 miles across at its largest. It remained a hurricane hours after crashing ashore over Galveston at 2:10 a.m.
Its maximum sustained winds were near 80 mph, with higher gusts. It was expected to continue to weaken and move into western Arkansas by Saturday night.
The storm surge, however, was smaller than forecast. The greatest surge, of 15 feet, happened at Sabine Pass, near the Texas-Louisiana line. Authorities had predicted surges of 20 to 25 feet.
Authorities in Orange County, Texas, on the Louisiana line, were using large dump trucks Saturday to rescue residents trapped on their roofs by massive flooding, a county judge told CNN.
The city of Orange and the town of Bridge City were flooded, Beaumont emergency official Brad Peneffon said.
Rescuers fanned out in boats Saturday in Cameron Parish, Louisiana, after the storm surge flooded 1,800 homes.
Gas prices jumped in some regions of the country.
"The Department of Energy, the Federal Trade Commission and, I know, the state authorities will be monitoring the gasoline prices to make sure consumers are not being gouged," President Bush said during brief remarks at the White House Saturday morning.
The Coast Guard said early Saturday that 22 people aboard a freighter that was adrift in the Gulf of Mexico were safe after the storm.