Tough sanctions are being proposed for parents who refuse routine vaccinations, such as MMR.
In an article for the
Fabian Society
, leading public health expert Sir Sandy Macara called for
child benefit to be linked with vaccination uptake
.
And Labour MP Mary Creagh said children should have to
prove they are vaccinated before they start school
to improve uptake of MMR.
The Department of Health said vaccination was voluntary.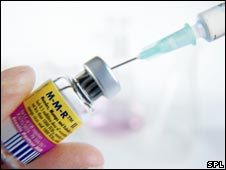 ©BBC
Public confidence in vaccination, and in MMR particularly, fell after research raised the possibility that the jab may be linked to an increased risk of autism.
The research has since been debunked, and a string of studies have concluded that the triple vaccine - which protects against rubella and mumps as well as measles - is perfectly safe.
But immunisation rates are still well below the 95% needed for herd immunity and are particularly low in London.
As a result there have been several outbreaks of measles.
'Blasé'
Sir Sandy Macara, ex-chairman of the British Medical Association, said in many developing countries immunisation rates were higher than in the UK even though they had poorer access to healthcare.
"People here have become a bit blasé and they worry more about rare possible risks of vaccination rather than the diseases they prevent.
"One ought to recognise that mothers have a responsibility for ensuring their children are protected."
He said linking vaccination to child benefit would ensure full vaccine coverage and make the argument that it was being done for the public good rather than for the benefit of individuals.
"Politicians are much more anxious than they would admit about 'nanny state' accusations but they should be more worried about being accused of negligence," he said.
Ms Creagh said proof of vaccination before school attendance had been used in the US.
"The MMR vaccination rate is at 85% and the target figure is 95% so it's about catching children who may have moved or lost contact with their health visitor but also saying to parents your child has a right to live free from vaccine preventable diseases."
She said there would be exceptions where children could not be vaccinated for medical or religious reasons.
"In lots of cities now they are offering catch up MMR for five-year olds and there's a high take-up - a lot of anxiety has gone away and it offers parents another opportunity."
But Jackie Fletcher of pressure group Jabs was against both proposals.
"It's only six months since a big public consultation by the Nuffield Council on Bioethics which we contributed to and they concluded there was no reason to change the voluntary system.
"At the same time as this was published in the UK there was a huge furore in the US as parents were threatened with hefty fines and jail unless they vaccinated their children before entry into school.
"Is this really the direction we want to go in," she said.
A spokesperson for the Department of Health said they wanted to see a continued improvement in the uptake of the MMR vaccine.
"Vaccination in this country is voluntary.
"PCTs need to identify what approaches will work best to meet the need of their communities in order to ensure that all children and at-risk groups can benefit from vaccines."