---
Influenza - "a human respiratory infection of undetermined cause" according to Webster's dictionary. Most people have at some stage in their lives felt its effects, and while the normal human virus is not lethal to humans there exists the possibility that lethal "mutated" strains can develop.
Each winter the flu virus makes its expected appearance, commonly known as the "Flu season". The standard government response is to commission the large pharmaceutical companies to manufacture vast amounts of a vaccine.
The vaccine is essentially a dose containing several, either dead, or alive but weakened, flu virus strains (among other things as we shall see). When introduced into the body these supposedly immunise us against those particular strains. However the vaccine does not cover all the possible Flu virus strains and if the predominant flu virus in any given season is not contained in the vaccine then naturally no protection will be afforded by the vaccine. Interestingly, this was the case this 2003/4 season, yet it did not stop the government from urging the public to "get immunised!"
While initially being recommended for the elderly and young, now it is advised that everyone who wants to avoid the flu should receive the shot. The question is, how much do you trust your government, and how much of that trust is warranted. As we shall see, there is cause to be highly suspicious of government advice. In regards to this years flu virus the Government Center for Disease Control has said:
"It is not possible to accurately predict in advance what type of flu season we are going to have. However, current surveillance data show that people in the United States are getting sick with flu earlier in the year than usual. Also, in laboratory tests from across the country, a greater proportion of specimens testing positive for influenza are type A (H3N2). Historically, A (H3N2) viruses have been associated with more-severe flu seasons during which higher numbers of influenza-related hospitalizations and deaths have occurred."
2004 Flu spreads to all 50 US states

Half are considered "hit hard" by the epidemic...

2004 Flu Outbreak Now Widespread in 24 States

By ANGIE WAGNER, Associated Press Writers
December 12, 2003

LAS VEGAS - With the flu now spread to all 50 states and nearly half of those considered hit hard, the government is scrambling to ship 100,000 vaccine doses to combat shortages, hoping to head off what could become one of the worst outbreaks in years.

The number of states with widespread infections nearly doubled to 24 in the past week, and the season has not yet peaked nationally, the Centers for Disease Control and Prevention said Thursday.

Worried parents are rushing to find shots even though many local health departments and doctor's offices are either out or about to run out of the vaccine. [...]

She found 300 people waiting to get the vaccine at her daughters' pediatrician's office Saturday, but couldn't endure the three-hour line. She later got the vaccine from her mother, who is a nurse. [...]

Comment: Ah, hysteria... Worried parents are stampeding to get their children injected with a dangerous vaccine that offers no protection against the latest strain spreading across the country.

Flu forces public school to close

Associated Press
December 11, 2003

COLCHESTER, Conn. -- A public high school closed Thursday afternoon because of an apparent outbreak of the flu.

Bacon Academy in Colchester sent students home

at 12:30 p.m.

School officials said about 300 students, more than one-third of the student body, and 17 faculty members called in sick Thursday with flu-like symptoms. That was up from 175 student absences Wednesday. Officials said the school will be closed Friday as well. [...]

Scientists Predict Worldwide Flu Outbreak

By MALCOLM RITTER, AP Science Writer
Sat Dec 13, 4:48 PM ET

NEW YORK - As bad as this year's flu season is, it hasn't brought the worldwide outbreak known as a pandemic. But experts warn that a pandemic is coming, it's just a question of when. "It's going to happen," said Dr. Greg Poland of the Mayo Clinic. "For the American public in particular, I think it will be horrific." [...]

Panel reluctantly backed flu vaccine to FDA

Saturday, December 13, 2003 Posted: 10:52 PM EST (0352 GMT)

(CNN) -- Members of an advisory panel that backed this year's flu vaccine expressed doubts about its potential effectiveness before recommending it for the Food and Drug Administration's approval.

Some said they were concerned the vaccine would not provide as much protection against the Fujian strain of flu that was thought most likely to dominate this year's flu season, according to a transcript of the group's deliberations.

The Fujian strain, which emerged in the Far East, is now responsible for 75 percent of U.S. flu cases, the Centers for Disease Control and Prevention said.

But drug makers could not culture the Fujian strain in a way to meet FDA standards, forcing the advisory committee to make this year's flu vaccine the same as it was last year.

The committee's decision in March has come under a microscope now because the flu is reaching near epidemic proportions in the United States.

Experts cast bet on flu vaccine - Imperfect shield beat delivery delay

By SARAH AVERY, Staff Writer
November 29, 2003

Despite evidence that a flu bug had mutated and was defying the current vaccine, health officials around the world took a calculated risk not to change the formula for this year's flu shots.

Part of the reason was that the new strain was difficult to grow in the lab. That could have delayed the vaccine's development and, thus, its availability.

About 10 percent to 20 percent of U.S. residents will get influenza each year. Most will recover in one to two weeks, but some will develop life-threatening complications. An average of about 36,000 people per year in the United States die from influenza, and 114,000 per year are admitted to a hospital. People age 65 and older, people of any age with chronic medical conditions and very young children are more likely to get complications such as pneumonia, bronchitis, and sinus and ear infections. The flu also can exacerbate chronic health problems such as asthma and congestive heart failure.

Given two options -- a late but better vaccine or a timely but flawed shot -- health officials chose the latter.

"Obviously, the hope was that the current vaccine would provide enough degree of protection," said Dr. Samuel L. Katz, a professor emeritus at Duke University and member of the advisory panel that recommends the nation's flu vaccine.

Whether that hope was valid is not yet known.

Study shows flu vaccine was ineffective

Friday, January 16, 2004

ATLANTA,Georgia (CNN) -- This year's flu vaccine had little or no effectiveness against influenza-like illnesses, according to a preliminary study released Thursday.

The study, published by the Centers for Disease Control and Prevention's Morbidity and Mortality Weekly Report, looked at workers at Children's Hospital in Denver, Colorado.

Of the 1,000 people who got the vaccine before November 1, 149 went on to develop influenza-like illness (14.9 percent). Of the 402 people who did not get the vaccine, 68 got an influenza-like illness (16.9 percent), the study said.

This year's outbreak started early and more severely than usual, sparking a run on vaccine by people eager to protect themselves. That depleted supplies.

But the vaccine did not contain the Fujian A virus that proved to be the predominant strain this year. Despite public health authorities' hopes that there was enough overlap with the vaccine's other strains that some protection would be conferred, that does not appear to be the case.

The preliminary findings "demonstrated no or very low effectiveness," against flu or flu-like illnesses, the report stated. But officials said the vaccine is not designed to combat flu-like illnesses.
This is an important point. There are many temporary illnesses that cause symptoms similar to that of the flu but which are not in fact caused by the flu virus. Despite this, due to the ramping up of the fear factor, the first sign of a sniffle or ache is enough to send people running for the flu vaccine.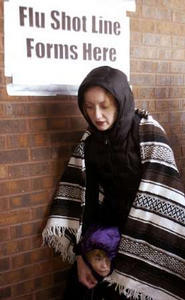 Flu Outbreak Strains Demand for Test Kits
By JOHN NOLAN, Associated Press Writer
CINCINNATI - Manufacturers of tests used to determine if a patient has the flu say the current outbreak has strained their ability to meet demand from hospitals, medical laboratories and doctors' offices.
Jack Kraeutler, president of test kit distributor based Meridian Bioscience Inc., said the company is running about a week behind in filling orders.
"I don't think that there's a manufacturer or a health professional who hasn't been overwhelmed with how quickly it's moved," Kraeutler said.
The number of states hit hard by the flu has doubled to 24 over the past week and now includes most of the western half of the country. Nationwide, at least 20 children have died in what could become the worst flu season in years.
"Political tags - such as royalist, communist, democrat, populist, fascist, liberal, conservative, and so forth - are never basic criteria. The human race divides politically into those who want people to be controlled and those who have no such desire." - Robert Heinlein
US 'wants British flu vaccine'

US health officials are considering buying thousands of doses of flu vaccine from Britain because it is running short of supplies.

Parts of the US have been affected by the Fujian flu strain, which has also hit the UK.

[...] Last year, flu-vaccine manufacturers in America overproduced and had to scrap 12 million doses of the vaccine.

But this year, a combination of more cases of flu and an increase in the numbers choosing to have the flu jab has led to the shortage, experts said.

Madison closed until Monday (Ohio)

By J. Ameer Rasheed, Journal Staff Writer
12.11.03

After three days with 30 percent of the student body missing school, largely because of the flu, Madison Jr./Sr. High School officials decided to close school doors until Monday.

The 70 percent attendance rate is 25 percent lower than the school's average daily attendance rate, according to school Principal Curtis Philpot. Madison Primary and Madison Intermediate are not affected by the cancellations. [...]
Of course, we are not surprised that the fear factor was used to ensure that the popoulation scrambled to get the shot, vaccines have less to do with protecting the public and more to do with making money...
MedImmune Seeks Help In Relaunching FluMist

New Plan to Be Rolled Out in January

By Michael Barbaro
Washington Post Staff Writer
Tuesday, November 25, 2003

MedImmune Inc. hired a consultant to discover why its needle-free flu vaccine FluMist disappointed sales expectations this fall and is considering emphasizing what it says is FluMist's safety as well as its convenience, said an analyst who spoke to the Gaithersburg drug company's managers.

Mark Schoenebaum of Minneapolis investment bankers U.S. Bancorp Piper Jaffray Inc. said MedImmune executives were surprised to learn that doctors and patients say they believe FluMist, which contains a live but weakened form of the influenza virus, might give them the flu. The company told him "many physicians are actually advising against FluMist," Schoenebaum said. [...]
Comment: And lo and behold, the "help" to MedImmune is provided, despite the fact that even the corrupt FDA has "health concerns" about the vaccine.
Flu Shot Shortage Could Help FluMist

By STEPHEN MANNING
ASSOCIATED PRESS
December 09, 2003

COLLEGE PARK, Md. (AP) - Shortages of flu shots could boost disappointing sales of the needle-free vaccine FluMist this winter, but analysts say the drug's long term outlook is dogged by a high price and limits on who can use it.

The news last Friday that the nation's two producers of traditional flu vaccine injections have run out of stock and won't be able to produce more this season has led some health agencies and consumers to turn to FluMist.

There is plenty of the nasal spray vaccine available - only 400,000 doses out of the roughly 4 million doses made by Gaithersburg-based MedImmune and its partner, Wyeth, have been distributed to pharmacies and flu vaccine sites.

State health agencies are recommending that healthy people between the ages of 5 and 49 use FluMist and save what remains of the traditional vaccine for others.

Until last week, MedImmune had a hard time selling FluMist. Its wholesale price of $46 per dose is much higher than the cost of flu shots. And the drug - originally billed as a painless alternative for those scared of needles - hasn't been approved for use by toddlers and seniors.

At pharmacies in 33 Giant Food grocery stores in Virginia, FluMist sales tripled last week over the previous week, company spokesman Jamie Miller said. FluMist sells for $59.95 at Giant, while a flu shot is $20, he said.

"FluMist will probably be the last place to turn," said Philip Nadeau, an analyst with SG Cowen Securities. "I think most physicians would think that FluMist is better than nothing."

MedImmune spokeswoman Jamie Lacey said it was too early to tell how the vaccine shortage would affect FluMist sales.

FluMist, which contains a live but weakened flu virus, is meant to be a painless alternative to the traditional flu injection, which is made from a dead flu virus.

MedImmune hoped FluMist would be a blockbuster drug, much like its childhood respiratory drug Synagis that had $668 million in sales last year. The company pumped $25 million into an ad campaign touting the drug to consumers and another $25 million pitching it to pharmacies.

But the drug's introduction was hampered by several factors.

Citing safety concerns, the Food and Drug Administration did not approve FluMist for children under 5 years and those above 50, the two groups at the greatest risk for the flu. [...]

Two Flu Shot Makers Run Out of Vaccine

Dec 5 2003
By DANIEL Q. HANEY

The two makers of flu shots in the United States said Friday they have run out of vaccine and will not be able to meet a surge in demand resulting from fears of a particularly bad flu season.

Nevertheless, the companies said people who have put off getting their shots may still be able to find them, since distributors and doctors' offices may still have some left.

The companies, Chiron and Aventis Pasteur, together made about 80 million doses of the injected vaccine, which ordinarily would be enough to take care of U.S. demand.

"Because of the recent outbreak, we've seen an unprecedented surge of vaccine orders late in the season," said Len Lavenda, an Aventis spokesman. "As a result, we have now shipped all our available supplies."

"It's all been shipped out," said Chiron's John Gallagher. "We began shipping in August. It's all gone at this point."

The companies said they cannot make more vaccine this year, because the process takes four months. By that time, the flu season would be over.

Another alternative is the FluMist, the more expensive inhaled version of the vaccine. Its maker, MedImmune Vaccines, made between 4 million and 5 million doses this year. Spokeswoman Jamie Lacey said that as of Nov. 18, the company had sold 400,000 doses, and "there is still a wide supply available."

Revealed: how drug firms 'hoodwink' medical journals

Pharmaceutical giants hire ghostwriters to produce articles - then put doctors' names on them [...]

Glaxosmithkline chief: Our drugs do not work on most patients

08 December 2003

A senior executive with Britain's biggest drugs company has admitted that most prescription medicines do not work on most people who take them.

By John McCaslin
The Washington Times

Gotten your flu shot yet? Whether you have or not, one leading congressman's warning might frighten you more than the needle.

If your doctor hasn't told you, Rep. Dan Burton, Indiana Republican, feels it is his duty to inform Americans about the "contents" of their influenza vaccines.

"As we approach the flu season, many of you will visit the doctor's office and receive an annual influenza vaccine. This might prevent the flu, but what else will it do?" Mr. Burton said. "You should be aware that the vaccine you are about to receive contains thimerosal — a mercury-laden preservative."

Mr. Burton says scientific evidence "continues to accumulate" regarding a biologically plausible connection between the preservative and certain neurological disorders. Some scientists have attributed the growth in Alzheimer's disease and autism to mercury found in certain vaccines.

During his chairmanship of the Government Reform Committee, Mr. Burton held numerous hearings on possible adverse effects of thimerosal.

As for a second opinion, we call upon Senate Majority Leader Bill Frist of Tennessee — a doctor in real life — who actually reminded friends in his Christmas cards last year: "Don't forget your shots: flu shot annually."

Comment: Notice how this Moonie-owned, Bush, Sr. backed rag manages to belittle Rep. Dan Burton. It is interesting that Bill Frist,

[...] authored a bill intended to protect vaccine makers, such as Eli Lilly & Co, from lawsuits regarding thimerosal found in vaccines and argued is linked to autism in children. While Frist denies having any role in the provision that was slipped into the homeland security bill passed in November 2002 protecting Eli Lilly from legal matters for their thimerosal containing vaccines, Frist is hoping to pass his original bill, which will have liability protection regarding vaccines. [...] [ Tennessee Senator hoping to protect vaccine makers from legal problems]
See the Toxic Exposure Study Trust Foundation for more information.
It is clear that a healthy, happy, unafraid population does not make for good profits in the pharmaceutical industry, which in turn means less money in "contributions" to political parties.
But hang on to your hats, the intrigue does not stop there...
In fact, a more appropriate title for this supplement may be The Flu Vaccine Threat. As we shall see, there is more to the vaccine than a mere dose of dead viri.
By Dr Sherri Tenpenny
www.nmaseminars.com

News reports have been flooding us with articles warning that the impending flu season may be the worst in years.Even though it is difficult to separate the facts from the hype, a close evaluation of the flu vaccine will reveal that serious questions must be raised about the recommendations that are routinely touted, namely high efficacy with little risk. Anyone considering a flu shot should become informed about the substances coming through that needle, and should be determined to investigate the safety and efficacy issues that are still unresolved.

What's in a flu shot?

The influenza virus is grown in "specific pathogen-free" (SPF) eggs. Eggs are tested for a variety of agents usually between 23 and 31-to confirm the absence of those specific pathogens. Laboratories limit the number of agents that are screened due to the shear abundance of potential viruses and/or bacteria to choose from. In addition, screening for every potential agent would be cost prohibitive. If none of the tested agents are detected, the vaccine is reported as "pathogen free.

However, it should be understood that there is a distinct difference between "pathogen free and "specific pathogen-free. In its July 1996 report, the Institute of Medicine acknowledged that "although it is not possible to produce a completely uncontaminated animal, it is possible to produce an animal [or egg] certified to be free of specific pathogens. Viruses that are harmless to their animal host, however, may be potentially harmful to humans.

During the manufacturing process, antibiotics (neomycin, polymyxin B and gentamicin) are added to eliminate stray bacteria found in the mixture. The final solution can contain the following additives in any combination: Triton X-100 (a detergent); polysorbate 80 (a potential carcinogen); gelatin; formaldehyde; and residual egg proteins. In addition, many of the influenza vaccines still contain thimerosal as a preservative. Thimerosal (mercury) is being investigated for its link to brain injury and autoimmune disease.

Does the flu shot protect?

There are no guarantees that the influenza viruses selected for the vaccine will be the identical strains circulating during a given flu season. In fact, it has recently been announced that this year's flu vaccine does not include the strain that is being reported by doctors in the community called the "A Fujian strain. Outbreaks have been reported in Texas, Colorado and elsewhere that involve strains that do not match the current flu vaccine. CDC tests have confirmed that more than 80 per cent of the 55 strains of influenza virus isolated thus far are the A Fujian strain. Even so, the CDC still maintains that the current vaccine could provide cross-protection against the new variant, but the fact is, no one knows for sure.

Moreover, the majority of illnesses characterized by fever, fatigue, cough and aching muscles are not caused by the influenza virus. Non-influenza viruses (e.g., rhinoviruses respiratory syncytial virus [RSV], adenoviruses, and parainfluenza viruses) can cause symptoms referred to as influenza-like illnesses. Certain bacteria, such as Legionella spp., Chlamydia pneumoniae, Mycoplasma pneumoniae, and Streptococcus pneumoniae, have been documented as the causes of ILI.

Notably, these microbes are not part of the flu vaccine. Unless an organism's antigen is contained within the vaccine, there is no protection conferred by the vaccine.

Targeting the elderly

The flu vaccine is generally recommended for persons aged 65 and older, and those with medical conditions who could experience serious complications from the flu. Medical journals report broad differences in effectiveness for the elderly, ranging from 0 to 85%.

The CDC states that 90% of deaths from influenza occur among the elderly. Considering that nearly 65% of all deaths (from any cause) occur in this age group, it is nearly impossible to prove that flu shots significantly increase life expectancy in this group. The truth is that most people-young and old-will weather a bout of the flu without hospitalization or complications.

A serious concern: Alzheimer's Disesase

Hugh Fudenberg, MD, an immunogeneticist and biologist with nearly 850 papers published in peer review journals, has reported that if an individual had five consecutive flu shots between 1970 and 1980 (the years studied), his/her chances of getting Alzheimer's Disease is ten times higher than if they had zero, one, or two shots.

Dr. Boyd Haley, Professor and Chair of the Department of Chemistry at the University of Kentucky, Lexington has done extensive research in the area of mercury toxicity and the brain. Haley's research has established a likely connection between mercury toxicity and Alzheimer's disease.In a paper published in collaboration with researchers at University of Calgary, Haley stated that "seven of the characteristic markers that we look for to distinguish Alzheimer's disease can be produced in normal brain tissues, or cultures of neurons, by the addition of extremely low levels of mercury."

Does this prove that the mercury contained in the influenza shot can be directly linked to Alzheimer's? No, absolutely not. But further research in this area is critically needed because the absence of proof is not the "proof of absence."

Flu vaccine now for children

The Advisory Committee on Immunization Practices (ACIP) adopted a resolution effective March 1, 2003 that expanded the use of the influenza vaccine to include children aged 6-23 months. The recommendations also included vaccinating those aged 2 to 18 years who live in households containing children younger than 2 years of age.

The flu vaccine most commonly given to children is Fluzone, a trivalent vaccine grown in chicken eggs. Harvested with formaldehyde and containing the recommended ratio of 15 ug of each of the three prototype viral strains, each dose of Fluzone also contains 25 ug of mercury. The new CDC recommendations include giving the influenza vaccine to children beginning at six months of age and then annually, for the rest of their lives. Children less than age 9 receiving their first flu shot, two doses of vaccine are recommended, with a minimum interval of one month between the two doses. However, the CDC does not provide a direct reference to substantiate this recommendation.

On June 17, 2003, the FDA approved an intranasal influenza vaccine for use in healthy persons aged 5 - 49 years. Flumist is a live-virus vaccine that can cause a litany of problems.

Alternatives?

If you choose not to receive the flu shot, have a discussion with your doctor regarding other options. However, some simple and possibly quite effective things you can do for yourself to prevent the flu include: 1) avoid white sugar;[xiv] 2) exercise regularly; 3) get adequate sleep; 4) eat a healthy diet, omitting trans-fats; 5) drink plenty of purified water daily and 6) wash your hands. A common way people contract viral illnesses is by rubbing their nose or their eyes after their hands have been contaminated with a virus. The CDC states, "the most important thing you can do to keep from getting sick is to wash your hands.

We are so used to taking medications-for prevention and treatment-that it is difficult to comprehend that these modest recommendations are really the most powerful ways to minimize the likelihood of getting the flu.
"Kim Collins talks to her son, Nick Collins, 9, both of Texarkana, Texas, as he opens his eyes briefly in the Pediatric Intensive Care Unit at Arkansas Children's Hospital in Little Rock, Ark., Monday, Dec. 8, 2003. Nick, who arrived at the hospital on Nov.10, needs four chest tubes to drain air and fluid from three holes in his lungs caused by bacterial pneumonia. Doctors are trying to prevent a blood clot from killing him. He%27s also developed a drug-resistant bacteria infection, a worrisome find thatdoctors are starting to see in other flu cases. Doctors are reporting unusual and frightening complications with this year's flu outbreak, particularly among young patients."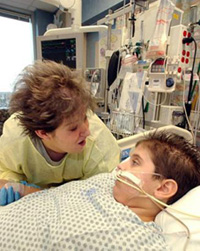 Unusual and frightening complications with Flu outbreak
At left: Kim Collins talks to her son, Nick Collins, 9, both of Texarkana, Texas, as he opens his eyes briefly in the Pediatric Intensive Care Unit at Arkansas Children's Hospital in Little Rock, Ark., Monday, Dec. 8, 2003. Nick, who arrived at the hospital on Nov.10, needs four chest tubes to drain air and fluid from three holes in his lungs caused by bacterial pneumonia.
Doctors are trying to prevent a blood clot from killing him. He's also developed a drug-resistant bacteria infection, a worrisome find thatdoctors are starting to see in other flu cases. Doctors are reporting unusual and frightening complications with this year's flu outbreak, particularly among young patients.
Comment: Essentially then, in the "flu shot" you are getting a host of deadly chemicals along with supposedly a small dose of the actual dead or live flu virus. Leaving aside the mercury (extremely poisonous to humans) and formaldehyde (the main ingredient in rat poison), how are any of us to know just what virus the Pentagon has chosen to introduce into our bodies? Ask yourself, would you be happy to rely on the moral integrity of someone like Donald Rumsfeld to safeguard your own life and the lives of your children? You may be thinking, "they wouldn't do that!", if so, we recommend that you read on.
Few people alive today are old enough to remember the Spanish Flu outbreak of 1918
"The effect of the influenza epidemic was so severe that the average life span in the US was depressed by 10 years. The influenza virus had a profound virulence, with a mortality rate at 2.5% compared to the previous influenza epidemics, which were less than 0.1%. The death rate for 15 to 34-year-olds of influenza and pneumonia were 20 times higher in 1918 than in previous years (Taubenberger). People were struck with illness on the street and died rapid deaths. One anectode shared of 1918 was of four women playing bridge together late into the night. Overnight, three of the women died from influenza (Hoagg). Others told stories of people on their way to work suddenly developing the flu and dying within hours (Henig). One physician writes that patients with seemingly ordinary influenza would rapidly "develop the most viscous type of pneumonia that has ever been seen" and later when cyanosis appeared in the patients, "it is simply a struggle for air until they suffocate," (Grist, 1979). Another physician recalls that the influenza patients "died struggling to clear their airways of a blood-tinged froth that sometimes gushed from their nose and mouth," (Starr, 1976). The physicians of the time were helpless against this powerful agent of influenza.

The influenza pandemic circled the globe. Most of humanity felt the effects of this strain of the influenza virus. It spread following the path of its human carriers, along trade routes and shipping lines. Outbreaks swept through North America, Europe, Asia, Africa, Brazil and the South Pacific (Taubenberger). In India the mortality rate was extremely high at around 50 deaths from influenza per 1,000 people (Brown). The Great War, with its mass movements of men in armies and aboard ships, probably aided in its rapid diffusion and attack. The origins of the deadly flu disease were unknown but widely speculated upon. Some of the allies thought of the epidemic as a biological warfare tool of the Germans. Many thought it was a result of the trench warfare, the use of mustard gases and the generated "smoke and fumes" of the war. A national campaign began using the ready rhetoric of war to fight the new enemy of microscopic proportions. A study attempted to reason why the disease had been so devastating in certain localized regions, looking at the climate, the weather and the racial composition of cities. They found humidity to be linked with more severe epidemics as it "fosters the dissemination of the bacteria," (Committee on Atmosphere and Man, 1923). Meanwhile the new sciences of the infectious agents and immunology were racing to come up with a vaccine or therapy to stop the epidemics.

The origins of this influenza variant is not precisely known. It is thought to have originated in China in a rare genetic shift of the influenza virus. The recombination of its surface proteins created a virus novel to almost everyone and a loss of herd immunity. Recently the virus has been reconstructed from the tissue of a dead soldier and is now being genetically characterized. The name of Spanish Flu came from the early affliction and large mortalities in Spain where it allegedly killed 8 million in May. However, a first wave of influenza appeared early in the spring of 1918 in Kansas and in military camps throughout the US.

Few noticed the epidemic in the midst of the war.

Wilson had just given his 14 point address. There was virtually no response or acknowledgment to the epidemics in March and April in the military camps. It was unfortunate that no steps were taken to prepare for the usual recrudescence of the virulent influenza strain in the winter. The lack of action was later criticized when the epidemic could not be ignored in the winter of 1918 (BMJ, 1918). These first epidemics at training camps were a sign of what was coming in greater magnitude in the fall and winter of 1918 to the entire world."
The "Spanish" Flu of 1918 was a pandemic of massive proportions, and one that we certainly would not want to see ever happen again. Well, perhaps we are speaking only for ourselves when we say this. It would appear that people in high places are very interested in the specific strain that appeared with such devastating results in 1918.
US Army scientists create "Spanish Flu" virus in laboratory

- medical benefit questionable [...]

Biosafety Irregularity in Spanish Flu Experiments

Highlights the Need to Strengthen Biodefense Transparency

The Sunshine Project
News Release
21 October 2003

(Austin and Hamburg) - Genetic experiments to recreate one of the most devastating viruses of the past century were not reviewed or approved by a biosafety committee. The University of Georgia claims that it was too troublesome to convene its Institutional Biosafety Committee to review research to genetically reconstruct the Spanish flu. Instead, the University signed off on the experiments based on ad hoc talks between only four members of its biosafety committee. As a result, no minutes were taken to describe safety review of the experiments. In fact, by not convening its committee, Georgia's actions ensured that there was no timely opportunity to raise concerns at all.

The case demonstrates a severe weakness in the public disclosure provisions of federal research rules (the NIH Guidelines) and underscores the need for mandatory committee-level (or higher) review of research projects with disease agents. By approving the experiments with an ad hoc subcommittee, requirements for public disclosure were avoided. The existence of the experiments only came to light through journal articles. According to Edward Hammond of the Sunshine Project, "Genetic engineering of bioweapons agents has national and international implications for health, biosafety, and security. But Georgia shied away from these and simply rubber-stamped the Pentagon-led project to recreate the Spanish flu."

In 1918-19, the Spanish flu killed 20-40 million people worldwide. In the US, deaths from the flu strain resulted in a 10 year drop in life expectancy. Recreating the deadly flu may create international unease, in particular because of the leadership of the US military in the project.

The Spanish flu reconstruction began at a University of Georgia biosafety level three (BSL-3) facility in 1999. Researchers from US universities, the Armed Forces Institute of Pathology, and the US Department of Agriculture (USDA) are involved. The lab specializes in diseases of poultry, including avian influenza. The Sunshine Project has confirmed - and reconfirmed - under the Freedom of Information Act that USDA has no biosafety committee minutes related to the experiments. The Project also directly contacted the University of Georgia and requested Institutional Biosafety Committee meeting minutes that are required by the NIH Guidelines for Recombinant DNA Research. Georgia's Biosafety Officer stated that no minutes exist.

Scientists have recently begun to accept the need to reinforce the Institutional Biosafety Committee system established under the NIH Guidelines for Recombinant DNA Research. But the discussion, including that in a recent report on biosafety by the National Academies of Science, is out of balance because it is taking place almostly exclusively between scientists, government regulators, and the Pentagon. "There is a need to make more room at the table. The public has a right to help determine if, and under what conditions, risky research proceeds." says Hammond, "Biosafety review must be a matter of law, and public access provisions of federal research rules must be strengthened. Otherwise, risky experiments such as this one will take place with little or no transparency, and that will decrease international security and create environmental and health risks."

Spanish Flu - Why is the US government interested?

A recent commentary in the Journal of the Royal Society of Medicine (Madjid et al. 2003) noted that influenza is readily transmissible by aerosol and that a small number of viruses can cause a full-blown infection. The authors continued:"the possibility for genetic engineering and aerosol transmission [of influenza] suggests an enormous potential for bioterrorism" The possible hostile abuse of influenza virus is seen as a very real threat by public health officials in the USA. Just two weeks ago, $15 million was granted by the US National Institutes of Health to Stanford University to study how to guard against the flu virus "if it were to be unleashed as an agent of bioterrorism".

US scientists led by a Pentagon pathologist recently began to genetically reconstruct this specifically dangerous 1918 influenza strain. In one experiment a partially reconstructed 1918 virus killed mice, while virus constructs with genes from a contemporary flu virus had hardly any effect.

Attempts to recover the Spanish flu virus date to the 1950s, when scientists unsuccessfully tried to revive the virus from victims buried in the permafrost of Alaska. In the mid 1990s, Dr Jeffrey Taubenberger from the US Armed Forces Institute of Pathology started to screen preserved tissue samples from 1918 influenza victims. It appears that this work was not triggered by a search for flu treatments, or the search for a new biowarfare agent, but by a rather simple motivation: Taubenberger and his team were just able to do it. In previous experiments they had developed a new technique to analyse DNA in old, preserved tissues and for now looking for new applications: "The 1918 flu was by far and away the most interesting thing we could think of" explained Taubenberger the reason why he started to unravel the secrets of one of most deadliest viruses known to humankind.
We do not doubt that a deadly form of the flu virus could be used as "an agent bioterrorism", but the question is, which group of terrorists would be behind it? Are we really expected to believe that with the US military looking over his shoulder, it is a mere coincidence that Taubenberger chose "one of deadliest viruses known to humankind" as a test subject? It is no secret that the US and other governments have a keen interest in biological weapons, indeed, it seems that one of the standing orders for government scientists is to find the most efficient way of killing the most people with the least effort.
Study: Influenza May Be Next Bioterror Weapon

Mon June 30, 2003 07:49 PM ET

LONDON (Reuters) - Forget anthrax and smallpox. Influenza could easily be turned into the next weapon of mass destruction, scientists said on Tuesday. They sounded their warning as researchers come close to completing the blueprint for the virus of the 1918 'flu epidemic that killed up to 40 million people globally.

"Taken together with the fact that influenza virus is readily accessible and may be causing more deaths than previously suspected, the possibility for genetic engineering and aerosol transmission suggests an enormous potential for bioterrorism," the University of Texas scientists said.

Writing in the Journal of the Royal Society of Medicine, the team led by Dr Mohammed Madjid noted that last century a series of 'flu epidemics from Spain to Russia and Hong Kong had killed millions of people as the virus naturally mutated.

They pointed out that sequencing of the genome of the 1918 Spanish 'flu epidemic was nearly complete, opening the door to unscrupulous scientists to build an even more potent virus. [...]
It is stated clearly, "influenza could be the next bioterror weapon", and who is making strenuous efforts to develop the killer virus? The Pentagon!! In an interesting yet unsurprising twist, we also discover reports that it may well have been the government vaccine that was administered in response to the 1918 Flu that caused the massive death toll.
Vaccine not virus responsible for Spanish flu

Ryle Dwyer writes on the horror of the 1918-20 pandemic which the propaganda says was caused by Spanish flu

Irish Examiner, May 1 2003

How did they know it was the virus of Spanish flu that killed millions of civilians and soldiers? This disaster occurred when viruses were unknown to medical science. It took a British science team to identify the first virus in man in 1933.

As regards the origin of the outbreak, he relates that a senior US army officer suggested that the Germans might have been responsible for the bug as part of their war effort, by spreading it in theatres or where large numbers of people assembled.

Did they also spread it among their own people, killing 400,000 as reported? Ryle would have us believe that all those American soldiers who died from non-combatant causes may have died from Spanish flu.

But US Army records show that seven men dropped dead after being vaccinated.

A report from US Secretary of War Henry L Stimson not only verified these deaths but also stated that there had been 63 deaths and 28,585 cases of hepatitis as a direct result of yellow fever vaccination during only six months of the war.

That was only one of the 14 to 25 shots given to recruits.

Army records also reveal that after vaccination became compulsory in the US Army in 1911, not only did typhoid increase rapidly but all other vaccinal diseases increased at an alarming rate.

After America entered the war in 1917, the death rate from typhoid vaccination rose to the highest point in the history of the US Army.

The deaths occurred after the shots were given in sanitary American hospitals and well-supervised army camps in France, where sanitation had been practised for years.

The report of the Surgeon-General of the US Army shows that during 1917 there were admitted into the army hospitals 19,608 men suffering from anti-typhoid inoculation and vaccinia.

This takes no account of those whose vaccine diseases were attributed to other causes.

The army doctors knew all these cases of disease and death were due to vaccination and were honest enough to admit it in their medical reports.

When army doctors tried to suppress the symptoms of typhoid with a stronger vaccine, it caused a worse form of typhoid paratyphoid.

But when they concocted an even stronger vaccine to suppress that one, they created an even worse disease Spanish flu.

After the war, this was one of the vaccines used to protect a panic-stricken world from the soldiers returning from WWI battlefronts infected with dangerous diseases.

I was an on-the-spot observer of the 1918 influenza epidemic

All the doctors and people who were living at the time of the 1918 Spanish Influenza epidemic say it was the most terrible disease the world has ever had. Strong men, hale and hearty, one day would be dead the next. The disease had the characteristics of the black death added to typhoid, diphtheria, pneumonia, smallpox, paralysis and all the diseases the people had been vaccinated with immediately following World War 1. Practically the entire population had been injected "seeded" with a dozen or more diseases — or toxic serums. When all those doctor-made diseases started breaking out all at once it was tragic.

That pandemic dragged on for two years, kept alive with the addition of more poison drugs administered by the doctors who tried to suppress the symptoms. As far as I could find out, the flu hit only the vaccinated. Those who had refused the shots escaped the flu. My family had refused all the vaccinations so we remained well all the time. We knew from the health teachings of Graham, Trail, Tilden and others, that people cannot contaminate the body with poisons without causing disease.

When the flu was at its peak, all the stores were closed as well as the schools, businesses — even the hospital, as the doctors and nurses had been vaccinated too and were down with the flu. No one was on the streets. It was like a ghost town. We seemed to be the only family which didn't get the flu; so my parents went from house to house doing what they could to look after the sick, as it was impossible to get a doctor then. If it were possible for germs, bacteria, virus, or bacilli to cause disease, they had plenty of opportunity to attack my parents when they were spending many hours a day in the sick rooms. But they didn't get the flu and they didn't bring any germs home to attack us children and cause anything. None of our family had the flu — not even a sniffle— and it was in the winter with deep snow on the ground.

When I see people cringe when someone near them sneezes or coughs, I wonder how long it will take them to find out that they can't catch it — whatever it is. The only way they can get a disease is to develop it themselves by wrong eating, drinking, smoking or doing some other things which cause internal poisoning and lowered vitality. All diseases are preventable and most of them are cureable with the right methods, not known to medical doctors, and not all drugless doctors know them either.

It has been said that the 1918 flu epidemic killed 20,000,000 people throughout the world. But, actually, the doctors killed them with their crude and deadly treatments and drugs. This is a harsh accusation but it is nevertheless true, judging by the success of the drugless doctors in comparison with that of the medical doctors.

While the medical men and medical hospitals were losing 33% of their flu cases, the non-medical hospitals such as BATTLE CREEK, KELLOGG and MACFADDEN'S HEALTH-RESTORIUM were getting almost 100% healings with their water cure, baths, enemas, etc., fasting and certain other simple healing methods, followed by carefully worked out diets of natural foods. One health doctor didn't lose a patient in eight years. The very successful health treatment of one of those drugless doctors who didn't lose any patients will be given in the other part of this book, titled VACCINATION CONDEMNED, to be published a little later.

If the medical doctors had been as advanced as the drugless doctors, there would not have been those 20 million deaths from the medical flu treatment.

There was seven times more disease among the vaccinated soldiers than among the unvaccinated civilians, and the diseases were those they had been vaccinated against. One soldier who had returned from overseas in 1912 told me that the army hospitals were filled with cases of infantile paralysis and he wondered why grown men should have an infant disease. Now, we know that paralysis is a common after-effect of vaccine poisoning. Those at home didn't get the paralysis until after the world-wide vaccination campaign in 1918.
Comment: So the evidence suggests that it was the addition of the vaccine that caused the virus to mutate, making it much more deadly. Of course, this provides the perfect cover. There is a real flu virus that many will contract, either before or after taking the vaccine. If contracted before, the symptoms will manifest and people will rush to take the vaccine, thereby causing the mutation and death, with claims that it was "too late". If contracted after taking the vaccine, the same thing will happen with the claim perhaps being that the vaccine simply did not work since the virus had mutated. What they will fail to tell people is that the vaccine is what caused the virus to mutate!
The groundwork has already been laid for this scenario with the announcement in the above article, "Experts cast bet on flu vaccine..." that the current vaccine may not work.
Consider now this report in the New Scientist of Feb 2004
Superflu is being brewed in the lab

February 04
Exclusive from New Scientist Print Edition

After the worldwide alarm triggered by 2003's SARS outbreak, it might seem reckless to set about creating a potentially far more devastating virus in the lab. But that is what is being attempted by some researchers, who argue that the dangers of doing nothing are even greater.

We already know that the H5N1 bird flu virus ravaging poultry farms in Asia can be lethal on the rare occasions when it infects people. Now a team is tinkering with its genes to see if it can turn into a strain capable of spreading from human to human. If they manage this, they will have created a virus that could kill tens of millions if it got out of the lab.
Comment: Like it or not, there are people on this planet who have a vested interest in ensuring that such a virus actually does "get out of the lab"
Many researchers say experiments like this are needed to answer crucial questions. Why can a few animal flu viruses infect humans? What makes the viruses deadly? And what changes, if any, would enable them to spread from person to person and cause pandemics that might prove far worse than that of 1918? Once we know this, they argue, we will be better prepared for whatever nature throws at us.

Others disagree. It is not clear how much we can learn from such work, they argue. And they point out that it is already possible to create a vaccine by other means. The work is simply too dangerous, they say.

"I'm getting bombarded from both sides," says Ronald Atlas, head of the Center for Deterrence of Biowarfare and Bioterrorism at the University of Louisville in Kentucky. "Some say that this sort of research is dangerous because of the risk of the virus escaping or being using in bioterrorism, and others that it's good science."

Rodents and monkeys

Some researchers refuse to discuss their plans. But Jacqueline Katz at the US Centers for Disease Control (CDC) in Atlanta, Georgia, told New Scientist her team is already tweaking the genes of the H5N1 bird flu virus that killed several people in Hong Kong in 1997, and those of the human flu virus H3N2.

She is testing the ability of the new viruses to spread by air and cause disease in ferrets, whose susceptibility to flu appears to be remarkably similar to ours.

Albert Osterhaus of Erasmus University in Rotterdam in the Netherlands plans to test altered viruses on rodents and macaque monkeys. Other groups are also considering similar experiments, he says.

If such work were to show that H5N1 could cause a human pandemic, everything that is happening in Asia would be even more alarming, Osterhaus argues. If, on the other hand, it failed to transform H5N1 into a highly contagious human virus, we could relax. "It becomes a veterinary health problem, not a public health problem. That would be an enormous relief."

Cell cultures

But Wendy Barclay of the University of Reading in the UK, who "thought long and hard" about trying to create a pandemic flu virus before abandoning the idea, disagrees. "If you get a negative, how can you be sure that you have tested every option?" she says. Health authorities would still have to take the precaution of creating H5N1 vaccines.

Barclay concedes, however, that creating a virus that spreads in people might tell us how real the threat is. For instance, do you need one mutation for H5N1 to adapt to humans, or dozens?

Osterhaus is more optimistic. "Within the next decade, the whole thing will be solved," he says. "We will know the rules." In other words, once experts understand what the genetic sequence of any flu virus means, they could predict which animals it can infect, how severe it will be, and how easily it will spread.

Yet any new viruses could only be tested in human cell cultures or in animals, not on people. None of these methods exactly reflects how flu behaves in humans. This has led some flu experts to argue that attempts to create a pandemic virus should be put on hold until there is agreement on the best way of testing it.

Mix flu genes

And there is an even more fundamental objection to such experiments: the processes used to create the viruses may be too artificial. Researchers who want to see if H5N1 can be pandemic can take two approaches.

One is to tinker with the genome of the bird flu virus to mimic mutations that might occur naturally. This can be done precisely using a technique called reverse genetics. The other approach is to mix bird flu genes with those of human flu viruses, either using reverse genetics or through random re-assortment in cells infected with both types.

Although re-assortment sounds more natural, there is a problem. "Re-assortments can be made very easily in the lab using cells or animals," says flu expert Graeme Laver, formerly at the Australian National University in Canberra. "But one of the big mysteries is that [human] viruses that appear by reassortment are extremely rare in nature. There is something else involved that we don't understand."
Comment: Unethical scientists, funded by an unethical government, tampering with a virus which, by their own admission, they do not fully understand. Feel safer yet?
Then there is the question of safety. The worst-case scenario is that researchers might end up engineering extremely dangerous viruses that would never have evolved naturally.

Masks or hoods

In 2001, for instance, Australian researchers created a mousepox virus far more virulent than any wild strains. This scenario is unlikely, but not impossible, says virologist Earl Brown of the University of Ottawa, Canada. "You could create something that is right out of whack, but I'd be surprised."

For those reasons, several prominent flu researchers told New Scientist that the H5N1 experiments must be done at the highest level of containment: Biosafety Level 4, or BSL-4. But the CDC work is being done at BSL-3Ag, an intermediate level between BSL-3 and BSL-4. Workers wear half-suits with masks or hoods to prevent infection, for instance, rather than full-body suits as in BSL-4.

"US Department of Agriculture guidelines specify that work with highly pathogenic avian strains be done in BSL-3+ (also known as BSL-3Ag) laboratories," a CDC spokeswomen says.

One of the reasons is that the H5N1 virus is regarded as a non-contagious, treatable disease in humans. But this is not necessarily true of all of the genetically engineered strains that might be created. And drug supplies would quickly run out if an escaped virus triggered a major epidemic.

New Variants

A recent report by the US National Academy of Sciences recommends a series of checks be put in place to control such research. It says a panel of leading scientists and security experts should be set up to regulate it.

"Some public representation is another option," says Atlas, who helped draw up the report. At the moment, however, such experiments can be carried out without any special consultation.

Methods like reverse genetics might also be used to create new variants of other diseases. "You can make some pretty unusual things new viruses that would never have existed in nature," says Barclay. "It's not just an issue for flu."
Once all of the above has been digested, consider an article from the Signs page on November 21st. On that day we reported on a story about how the US Congress had recently proposed an amendment that would enable it to elect its own members in the event of all or most of congress somehow being rendered unable to fulfill their civic duty. There is even a well-established " Continuity of Government Commission" that will take over in the event of that happening. The above articles on the upcoming possible "flu epidemic" certainly give us an answer to the question as to how congress might suddenly be made to disappear.
Spanish Flu - genetically specific?
[...] Not only was the Spanish Flu strikingly virulent, but it displayed an unusual preference in its choice of victims -- tending to select young healthy adults over those with weakened immune systems, as in the very young, the very old, and the infirm. The normal age distribution for flu mortality was completely reversed, and had the effect of gouging from society's infrastructure the bulk of those responsible for its day to day maintenance. No wonder people thought the social order was breaking down. It very nearly did.
But at the close of the First World War, when Spanish Flu appeared, the world was a very different place. Since then, outstanding advances in our knowledge of the germ world have been made, adding dramatically to our repertoire of medical wizardry. Surely what happened back then couldn't happen again.
Or could it?
During the 1918-1919 fall period the number of Americans who died from influenza is estimated at 675,000. Of those, almost 200,000 deaths were recorded in the month of October 1918 alone. Worldwide, the mortality figure for the full pandemic is believed to stand somewhere between 30 to 40 million. So, with the world population today having more than tripled in the intervening years, what is to stop a modern flu pandemic from claiming upwards of 100 million lives? The answer, it seems, is nothing at all. [...]
We understand that a reasonable argument is that the human flu virus is in fact not lethal to humans, yes it causes severe discomfort, but deadly? No. Short of the government releasing the revived "Spanish" Flu virus there is little chance that the normal human flu could cause a worldwide and deadly pandemic.
Enter Bird Flu.
At the time of writing (Feb 2004) bird flu has killed 16 people in Asia and is of great concern, it is of course not a new discovery but this most recent outbreak is being called the "worst in history" wth reports beginning as far back as April 2003.
"Bird Flu is a form of the influenza virus is an infectious disease of birds caused by type A strains of the influenza virus. The disease, which was first identified in Italy more than 100 years ago, occurs worldwide.

All birds are thought to be susceptible to infection with avian influenza, though some species are more resistant to infection than others. Infection causes a wide spectrum of symptoms in birds, ranging from mild illness to a highly contagious and rapidly fatal disease resulting in severe epidemics. The latter is known as "highly pathogenic avian influenza". This form is characterized by sudden onset, severe illness, and rapid death, with a mortality that can approach 100%.

Fifteen subtypes of influenza virus are known to infect birds, thus providing an extensive reservoir of influenza viruses potentially circulating in bird populations. To date, all outbreaks of the highly pathogenic form have been caused by influenza A viruses of subtypes H5 and H7." (source: WHO)

Bird flu epidemic is 'worst in history'

26 January 04

NewScientist.com news service

Indonesia has become the latest country to admit that a massive outbreak of bird flu has been ravaging its chicken farms for months. The disease has now led to the death of many millions of birds across south-east Asia, and at least seven people.

The scale of the epidemic is unprecedented, says Klaus Stöhr, a senior virologist at the World Health Organization. "Never in history have we seen such outbreaks of highly pathogenic avian influenza over such a wide area, simultaneously," he told New Scientist.

Stöhr warns that if a person becomes infected simultaneously with both bird and ordinary human flu, the viruses could hybridise to cause a deadly global pandemic.

With no end to the spread of the avian virus in sight, that risk will continue to rise. So on Tuesday, health authorities and drug companies will meet in Geneva, Switzerland, to tackle the daunting task of agreeing and implementing protective measures. [...]

Bird Flu Spreads in Europe, Human Health Concerns

Fri Apr 18 2003

LONDON (Reuters) - A severe Dutch outbreak of bird flu is seen spreading across Europe, mildly infecting humans and prompting fears that a mutated version of the virus could spark a flu epidemic in people, authorities said on Thursday.

The Dutch Agriculture Ministry, grappling to contain a month-long outbreak that has spilled into Belgium and is nearing the German border, said there was a danger that bird and human flu could mix in pigs and produce a mutation that humans have no resistance against.

"It is possible. Up to now avian flu has never acquired the ability to transmit from one person to another -- if it does ... it could cause a large number of infections," World Health Organisation spokesman Iain Simpson told Reuters...

While the WHO said it was possible that the disease could turn into a serious human epidemic, international food and animal health authorities dismissed the idea...

Nerves are jangling in Germany, as bird flu approached to within 1.5 kilometers of its border on Thursday. French, British, Portuguese and Spanish authorities were less concerned, despite worries that migrating wild birds could spread the disease. The chief form of transmission, however, is consumption of infected materials or feces.

"The situation is extremely precarious," German Junior Agriculture Minister Alexander Mueller said in a statement on Thursday.

In the Netherlands, 15 million out of more than 100 million birds have been slaughtered as authorities battle to suppress its spread.

12/01/2004

A highly contagious bird flu has killed thousands of chickens in southern Japan, an official said today.

By last night, about 6,000 chickens had died of the disease at a poultry farm in the town of Ato in Yamaguchi, about 500 miles south-west of Tokyo.

Tests found the virus was a strain of the H5 virus, the same category as the H5N1 virus that spread in South Korea last year said. Authorities are still investigating whether it is the deadly H5N1-97 strain which killed six people in Hong Kong in 1997.

Avian flu generally infects only birds, although it has spread to people in a few isolated cases.

Eggs which have been shipped to market from the Yamaguchi farm were recalled, and the farm's remaining 28,600 birds will be all destroyed and buried within days, the official added. He said chicken from the farm is not for export.

Bird flu was last found in Japan 79 years ago, officials said.

Fears grow over bird flu outbreak

The European Union has joined Japan in banning imports of Thai poultry amid growing international alarm over the spread of bird flu.

Thailand has confirmed its first two cases of avian flu in humans, and a Thai man tested for the virus has died.

Bird flu has affected poultry in Japan, Taiwan, South Korea - and also Vietnam, where it has killed five people.

The World Health Organisation warned that the latest outbreak could mutate and become more dangerous to humans.

Sixth bird flu death in Vietnam

A 13-year-old boy has become Vietnam's sixth victim of avian flu, the World Health Organization (WHO) has said.

Five Vietnamese children and one adult have now died from the virus, which has also crossed from birds to humans in Thailand.

The WHO has warned that the outbreak could mutate and become more dangerous.

Japan confirms bird flu outbreak

Japan has confirmed its second outbreak of bird flu, dashing hopes that the country was now free of the virus.

The farm ministry said chickens at a farm in Oita prefecture on southern Kyushu island had died from avian flu.

It is not yet known if they died from the H5N1 virus - the strain that has killed 20 people in Asia.

So the situation at this stage is that we have had a fairly serious human flu outbreak worldwide, followed closely by an outbreak of Bird Flu. We have learned that bird flu can be lethal to humans, but while humans can contract it directly from an infected bird, it is not transmissable from human to human. For it to become transmissable between humans it would have to come in contact with human flu produced a mutated offspring that could cause a lethal human pandemic. the WHO (World Health Organisation) makes this clear:
"Influenza viruses have a second characteristic of great public health concern: influenza A viruses, including subtypes from different species, can swap or "reassort" genetic materials and merge. This reassortment process, known as antigenic "shift", results in a novel subtype different from both parent viruses. As populations will have no immunity to the new subtype, and as no existing vaccines can confer protection, antigenic shift has historically resulted in highly lethal pandemics. For this to happen, the novel subtype needs to have genes from human influenza viruses that make it readily transmissible from person to person for a sustainable period."

Conditions favourable for the emergence of antigenic shift have long been thought to involve humans living in close proximity to domestic poultry and pigs. Because pigs are susceptible to infection with both avian and mammalian viruses, including human strains, they can serve as a "mixing vessel" for the scrambling of genetic material from human and avian viruses, resulting in the emergence of a novel subtype. Recent events, however, have identified a second possible mechanism. Evidence is mounting that, for at least some of the 15 avian influenza virus subtypes circulating in bird populations, humans themselves can serve as the "mixing vessel".
Humans as "mixing vessels" for a deadly form of Flu. Every year a lot of people get the Flu, perhaps 10-20% of the entire population. Those are decent odds. There is one way however to increase the odds that you will get the flu to 100% - take the flu vaccine. Once you have done that, simply wait until the fear is ramped up over bird flu and rush to your nearest pharmacy to get the avian flu vaccine - et voila! You have just ingested a lethal cocktail, courtesy of your government.
Indeed, the threat of the deadly avian flu spreading among the population need not be as a result of the "fortuitous" combination of a human flu strain and a bird flu strain within humans take the vaccine and you might just be getting two in one! A recent article on the perils of the human flu vaccine "FluMist" states:
An Investigation By RFD Columnist, Dr. Sherri Tenpenny

[...] An ever greater concern about FluMist is the contents within the vaccine. Each 0.5ml of the formula contains 10 6.5-7.5 particles of live, attenuated influenza virus. That means that between 10 million and 100 million viral particles will be forcefully injected into the nostrils when administered. The viral strain was developed by serial passage through "specific pathogen-free primary chick kidney cells" and then grown in "specific pathogen-free eggs." That means that the culture media was free of pathogens that were specifically tested for, but not a culture that was necessarily "pathogen-free." The risk that the vaccine may contain contaminant avian retroviruses still remains. In addition, a stabilizing buffer containing potassium phosphate, sucrose (table sugar) and nearly 0.5 mg of monosodium glutamate (MSG) is added to each dose. [...]
In a revealing update scientists have just recently (Feb 2004) declared that the Spanish Flu of 1918 was probably a version of bird flu similar to the one that recently made it's appearance:
1918 flu victim may hold clues to outbreak
JOHN VON RADOWITZ
The Scotsman.co.uk
A VICTIM of the world's worst flu epidemic is to be exhumed to help scientists trying to avert the spread of bird flu, it was revealed yesterday.
Scientists plan to remove lung samples from the body of 20-year-old Phyllis Burn, who was buried 85 years ago.
The army officer's daughter, from Strawberry Hill, London, was one of 50 million people killed by a devastating strain of influenza that swept across the world in 1918.
Evidence points to the 1918 virus being a type of bird flu similar to the one which is now claiming human lives in Asia.
Scientists are desperate to know more about what caused the pandemic, in order to avoid another disaster on a similar scale. [...]
So what is the conclusion? What is all of this pointing to? Let us venture a theory that is certainly backed up by all that we have just read.
The agencies within the US government (possibly in league with agencies from other countries) having revived the deadly Flu virus of 1918, have recently arranged for it to be released in Asia. This was a test and designed to acclimatise the public to the fact that bird flu is "on the loose". 21 people have so far (17/02/04) contracted it and 14 have died. Soon there will be a larger scale disbursement causing the virus to spread across the globe. It has only just begun..
In order to facilitate the largest possible infection rate, a second form of infection has also been planned.
Governments have prepped the public by using scare tactics to encourage millions to get the normal human flu vaccine shot. Once the more recent bird flu scare has reached the sufficent levels governments will use the same scare tactics to urge millions to get the bird flu vaccine also. This vaccine ( naturally containing the bird flu virus) will then combine and mutate with the previously taken human flu vaccine (containing the human flu virus) within the human "mixing vessel", thereby creating the deadly strain of human transmissable bird flu.
At this point, can we discount the Haig-Kissinger plan for depopulation? Were these men joking? Is it reasonable to suggest that they would go to the bother of proposing this theory without formulating a plan to implement it in some way? The people that hold a controlling stake in our world use deception as their standard operating procedure.
If depopulation were a concept that was being studied and actively pursued, how might it be achieved? Naturally it would unfold by way of deception since in this way chances of success are optimised. What the people do not know will not hurt them until it is too late to do anything about it.
What better way then to effect depopulation than to engineer it by way of something as commonly accepted as "normal" and as seemingly random as the common Flu...
To surmise. It does not look good. The US and other world governments may well be planning to introduce a flu virus that will decimate the human race. Of course it will be called "a deadly strain of flu", but in reality how would the public know that it was not deliberately introduced? The only argument that we have to fall back on is the popular, "They wouldn't do that". But as we look objectively at current and past world events, are we really in a position to make such an assertion? If the US government were happy to allow Pearl Harbor to happen in order to justify entry to WWII, if they planned to blow up a US passenger plane and blame it on Cuba as justification to invade that country; if they were willing to stage attacks killing over 3,000 of their own citizens on 9/11 to justify a worldwide campaign of further murder, how can anyone have faith in what they "would not do". Surely an assertion such as this is based more in wishful thinking than in objective reality, and as someone wise once said, "Wishful thinking will get you every time".
Other stories that point to the fact that we are in the "test phase" prior to a worldwide pandemic have also been appearing in the press.
Stomach virus sickens dozens on Carnival cruise ship

11/29/2003

FORT LAUDERDALE (AP) — Dozens of passengers came down with a stomach illness during an eight-day cruise on the Carnival Cruise Lines ship Legend, which returned to port Saturday, the company and the federal Centers for Disease Control and Prevention said.

The illness was believed to have been caused by a Norovirus, a family of highly contagious viruses, Carnival said in a statement.

Noroviruses are among the most common causes of stomach ailments, infecting 23 million people every year, health officials say. Symptoms include nausea, vomiting and diarrhea, typically lasting one to three days.
A cruise ship makes a great test environment. It is isolated, controlled... Some scientists, it seems, have found themselves in the unfortunate position of knowing a little too much.
Another Biologist Assassinated

Houston Chronicle

Police have released a composite drawing of a motorist who sped away after his van jumped the curb and killed a chemist walking on a sidewalk in the Texas Medical Center.

Robert Leslie Burghoff, 45, of The Woodlands was killed in the 1600 block of South Braeswood on Nov. 20. He was studying the virus plaguing cruise ships, police said. [...]
Well, the original title in the Chronicle was "Composite released in fatal hit-and-run". His death coinciding with the recent outbreak of the flu, and the most recent outbreak of a virus on a cruise ship inspired us to rewrite perhaps a bit more appropriate title. The only other mention we could find so far on the web of Dr. Burghoff was his work involved in forensic science and gene mapping. This lumps him in with the roster of dead microbiologists. Two dead microbiologists a conspiracy does not make, 14 ... probably.
See the Dead Scientists blog for regular updates on this topic:
Dr David Kelly's death in July 2003 has been put down as "suicide". This blog investigates whether or not this suicide is, in actual fact, murder dressed up as suicide. In recent months, a string of scientists across the world have also died unexpectedly and in mysterious circumstances. This blog also investigates the reason for their fate.
We have our own research: Ethnic Specific Weapons. We are all being set up.
Yet we must realise that governments have been using the citizenry as "mixing vessels" for the testing of new and ever more deadly viruses for a long time, and it is not limited to influenza..
CDC vaccines study slammed as cover-up

Data linking mercury exposure, neurodevelopment said 'manipulated'

Dec. 9, 2003

Rep. Weldon points out that the autism rate began to skyrocket as the number of required childhood vaccinations increased.

Canned tuna or canned poison? That was the teaser for a CBS 2 News "HealthWatch" Report of Nov. 22 that focused on high levels of mercury found in tuna and the possible health risks associated with them.

CBS 2 News reporter Paul Moniz quoted a number of physicians, who observed of the toxic substance that, "Once it gets into our bodies, a substantial part of it will end up in our nervous system, in our brains, and it's there that it causes a variety of symptoms." A pediatrician is quoted as saying, "We know that high levels of mercury can impair the cognitive development as well as the growth and development of a young child." What the report appears to be revealing is that while overweight Americans may flee to fish to lose unwanted pounds, too much of that tasty tuna could reduce the IQ more than the waistline.

What the critics of mercury in vaccines find provocative about this report is the acknowledgement by physicians that the high levels of mercury ingested from canned tuna can cause severe health risks. One such critic, the mother of an autistic child, wonders "why everyone gets up in arms over ingesting small amounts of mercury from fish or from breaking a thermometer but finds it acceptable to inject an even more toxic form of mercury directly into the bloodstream of infants. The evidence is overwhelming that hundreds of thousands of children were damaged by gross overexposure to mercury through vaccines [containing thimerosal] and millions more were and continue to be put at risk, yet network news has not addressed this in any significant way. The public needs and deserves to know the truth - not only about the biggest medical bungling in our history, but also about the extraordinary efforts of both the pharmaceutical industry and government agencies to cover it up."

A pharmaceutical and government cover-up? It is a familiar enough accusation, and this time the fuse was lit by yet another study from the federal Centers for Disease Control and Prevention (CDC), this one titled Safety of Thimerosal-Containing Vaccines: A Two-Phased Study of Computerized Health Maintenance Organization Databases. The report concluded that "no consistent significant associations were found between TCVs [thimerosal-containing vaccines] and neurodevelopment outcomes." Critics scoff at such a conclusion. "Sure," laughs one, "they say you can't eat tuna because the level of mercury you ingest isn't good for you, but there's no health risk associated with injecting high levels of mercury directly into a newborn baby?"

The CDC study, released in the November 2003 issue of Pediatrics, seemed to puzzle news media, with most who took note of it making at least a mention of the fact that the lead author, Thomas Verstraeten, was an employee of GlaxoSmithKline, the pharmaceutical giant and vaccine manufacturer, when he submitted the study for publication.

The first part of the two-phase study to determine whether there is a connection between thimerosal-containing vaccines and neurodevelopment disorders began in 1999 and involved the review of data from Seattle's Group Health Cooperative and Northern California Kaiser, both large health-maintenance organizations (HMOs). The data used in this first phase actually revealed a significant association between TCVs administered to infants and later developmental abnormalities such as speech and language delays and neurodevelopment problems in general, such as tics and the alleged hyperactivity symptoms of attention-deficit disorder and attention-deficit/hyperactivity disorder.

However, this conclusion was not included in the final draft; it was only made public afterward when Verstraeten's notes were revealed in another forum, according to specialists. The notes, not published with the CDC study, showed that the "relative risk" for autism was 2.48 times higher for children who received 62.5 micrograms or more of mercury from TCVs by 3 months of age. [...]

One of the few physicians in Congress, Rep. Dave Weldon (R-Fla.), immediately saw the problems associated with the CDC study and notified CDC Director Julie Gerberding. Weldon wrote, "I have serious reservations about the four-year evolution and conclusions of this study. A review of these documents leaves me very concerned that rather than seeking to understand whether or not some children were exposed to harmful levels of mercury in childhood vaccines in the 1990s, there may have been a selective use of the data to make the associations in the earliest study disappear."

Weldon's letter to Gerberding goes on to observe that "the first version of the study, produced in February 2000, found a significant association between exposure to thimerosal-containing vaccines and autism and neurological developmental delays. A June 2000 version of the study applied various data manipulations to reduce the autism association to 1.69, and the authors went outside the VSD [Vaccine Safety Datalink] database to secure data from a Massachusetts HMO [Harvard Pilgrim] in order to counter the association found between TCVs and speech delays." Clear enough.

[...] Then you consider that the lead author is working for a drug company, didn't disclose this fact and also that it is one of the drug companies being sued over this mercury issue. I'm just very concerned that we're not going to get answers as long as there are careers at stake. You know there are people at the CDC who have been involved in the vaccine program who didn't recognize the amount of mercury they were giving kids, and now they're in the process of investigating themselves. Meanwhile a lot of these investigators bounce to and from the drug companies. I think it all is very, very murky and very suspicious."

Weldon summarizes: "The CDC produced an article by Dr. Verstraeten, published on Nov. 3 in Pediatrics. Dr. Verstraeten is a former CDC employee. Since 2001 he has worked for GlaxoSmithKline - a vaccine manufacturer. While working for the CDC in 2000, the first version of Dr. Verstraeten's unpublished study found an association between higher thimerosal exposures and neurodevelopment disorders, including autism. Between 2000 and 2003, Dr. Verstraeten and coauthors manipulated and stratified the data so much that each of these associations magically disappeared. I don't know if it was deliberate, but that is nonetheless what happened. This study has done nothing in my mind to put these concerns to rest, but only serves to raise suspicions."

This veteran member of Congress puts it plainly: "We're not going to get answers to these questions until Congress or some outside group starts poring through this information. But it's very coincidental that they added the hepatitis vaccine, the HiB vaccine and the chicken-pox vaccine - they added all these additional childhood vaccines around the time when the autism rate started to skyrocket. Then when you actually sit down and do the calculations, according to the Environmental Protection Agency [EPA], they were giving these kids very toxic levels of mercury. I mean as a 150- to 200-pound adult the EPA says you're not supposed to take in more than one microgram per day. They were taking little seven- and 10-pound babies and pumping 50 and 75 micrograms of mercury into them in one shot. That's like giving an adult 1,000 micrograms. And, on top of that, the World Health Organization says mercury is 10 times more toxic in children than it is in adults. It's horrifying."

Mark Geier says, "Believe us, there is no scientific issue here. This is fraud. The CDC and the FDA [Food and Drug Administration] know what is happening. They just can't admit it because it is one of the worst things ever to have happened to this United States.If a terrorist had done this, we wouldn't attack them, we'd nuke them. We're talking about one in eight children in the U.S. that currently are in special education, and that number is going to change to about one in five. What percentage of our young population can we destroy before we realize how serious this is?"

Lyn Redwood, a registered nurse, mother of an autistic child and president and cofounder of www.SafeMinds.org (Sensible Action for Ending Mercury-Induced Neurological Disorders), a nonprofit organization dedicated to ending devastation caused by the needless use of mercury in medicines, tells Insight that "there are so many problems with the study, but over time you can see how all the manipulations of the data slowly bring down the signals for neurological disorders. I think they were trying to get lower numbers. It must be very hard to admit that a program that was designed to eradicate infectious disease has resulted in an epidemic of a whole new kind of disease.But to think that we weren't given a choice when the regulators and manufacturers knew these products contained mercury is inconceivable."

[...] They need to just get the thimerosal out. It's barbaric."
Tuna - the perfect cover. The FDA in America has on various occasions warned about the dangers to pregnant women and small children of mercury in tuna, and even included the population in general depending on how much they eat. Why do almost all vaccines contain mercury? It is not essential to the effective working of the vaccine yet it is used as a base ingredient. That Mercury is toxic to the human organism is beyond doubt so why would the government seek to inject it into as many citizens as possible? Perhaps it stems from a desire to simply weaken the population, mind, body and soul, for some particular purpose.
Parents denied access to new autism reports

By Sarah-Kate Templeton Health Editor

STUDIES quoted by the government as evidence that vaccines containing mercury – linked to autism in children – are safe, are being withheld from the public.

"Factsheets" issued by the Committee on Safety of Medicines to those concerned about research which suggests that vaccines containing mercury can trigger autism in some children claim that two new studies prove that the jabs are safe.

But these studies have not been scrutinised by independent experts as part of the peer review process which all scientific studies must go through to be considered valid.

Autism campaigners have accused the government of arrogance for telling parents to "just take their word"that the jabs are safe. The diphtheria, tetanus, and whooping cough vaccine (DTwP), which contains thiomersal, a mercury-based preservative, is given to hundreds of thousands of babies aged between two and four months every year.

Following research suggesting that mercury can cause autism in children, the Scottish Executive announced that parents would be allowed to choose mercury-free jabs for their babies. But parents have complained that they struggle to persuade doctors to administer the alternative jabs. The mercury-free vaccine, Infanrix, is more expensive.

The Executive has ruled out a ban on vaccines containing mercury. Dr Andrew Fraser, deputy chief medical officer, said the Executive was committed to finding mercury-free alternatives but that the government was still waiting for what it considered to be a "licensed, equally effective alternative" to become available, before banning vaccines containing thiomersal.
Now why would they make a claim that can supposedly be backed up by a study but then withhold the study? Take your time, no rush...just think logically.
CDC DATA LEADS SCIENTISTS TO SHOCKING DISCOVERY

February 9, 2004
Lori McIlwain, National Autism Association, (919) 272-8192

CHILDREN 27-TIMES MORE LIKELY TO DEVELOP AUTISM WITH EXPOSURE TO MERCURY-CONTAINING VACCINES, FINDINGS REVIEWED AT TODAY'S IOM MEETING IN DC

Washington, DC- Today, the Institute of Medicine will hold a one-day meeting to review important new research on the link between thimerosal, a mercury-based preservative in vaccines, and neurodevelopmental disorders such as autism. One of the larger studies under review comes from the CDC's own Vaccine Safety Datalink. Under independent investigation, CDC's data concludes children are 27-times more likely to develop autism after exposure to three thimerosal-containing vaccines (TCVs), than those who receive thimerosal-free versions.

Mercury's risk in tuna debated

By Katrina Woznicki
UPI Science News
6/27/2003

WASHINGTON, June 27 (UPI) -- Tuna fish, that ubiquitous ingredient in school lunches and household casseroles across America, could contain higher levels of dangerous mercury than previously thought. But despite new warnings, some scientists still dispute whether traces of the silvery metal pose any genuine health risk to the general population.

Methyl mercury is the organic form mercury takes in fish, usually large fish that reside higher up in the aquatic food chain. Mercury pollution comes from several sources, including the burning of fossil fuels in coal-fired electric power plants, disposal of mercury-containing products in incinerators and landfills, and industrial processes such as chlorine production.

The Centers for Disease Control and Prevention in Atlanta cites mercury as a potent toxin that can be harmful to fetuses, infants and young children. The CDC estimates one in 12 women of childbearing age has unsafe mercury levels in her blood, which could place 300,000 babies at risk for mercury poisoning every year. Swordfish and shark, popular entrees in restaurants, also are high in mercury, although they are not as widely consumed as tuna. [...]

Based on MPP's calculations, one out of every 20 cans of white albacore tuna should be recalled as unsafe for human consumption. Of the 48 tuna samples, over three were found to contain mercury levels higher than the Food and Drug Administration's one-part-per-million safety threshold. On average, the white albacore tuna had mercury levels four times higher than the 12 cans of light tuna tested.

"If a 22-pound toddler ate only two ounces of white tuna with that level of mercury, they would exceed the Environmental Protection Agency's virtual safe dose, called the reference dose, by four times," Michael Bender, MPP's director, told UPI. If a 132-pound woman ate two cans of tuna per week, she would exceed the EPA's limit by four times, he added.

The issue of mercury in fish is not just an American problem -- it is a global problem..

"The seat of the blame right now is really on the FDA because they are in charge of our food supply," Greer said. "We are so far behind the ball with the FDA. They're really asleep at the switch. They're shying away from declaring a problem that they would need to solve." [...]

An FDA spokeswoman told UPI: "We have a consumer advisory and that advisory is targeted for a certain segment of the population, which is mainly pregnant women and women of childbearing age. As of now, we are standing by our consumer advisory on methyl mercury in fish. Based upon comments we've received from the food advisory committee, (the FDA is) looking into addressing the tuna issue further." [...]

In fact, little data exist on the neurological consequences of mercury poisoning from fish consumption in the United States, Rutchik explained. "I have not seen ever, or I don't know anyone who has seen, a patient with a tremor that's related to mercury or from consumption of fish." Although individuals have varying susceptibilities to mercury, most people can "tolerate a little mercury in their blood," he said. "We're not talking about all of a sudden the child becomes retarded." [...]

Another study on tuna and mercury appeared in the May 16 issue of the British journal The Lancet. The research was headed by Dr. Gary Myers, a professor of neurology and pediatrics and the University of Rochester, N.Y.

This study, an update on the Seychelles study, named after the islands in the Indian Ocean, looked at 643 children living there from before birth to age 9 who had been repeatedly exposed to ocean seafood consumption whether through their mothers or on their own. The children were born to mothers who ate an average of 12 meals of ocean fish per week -- about 10 times greater than the average American. Results showed no detectable risk from low levels of mercury. The children, born in 1989 and 1990, have been evaluated five times over the years since their birth.

"The only cases of poisoning of methyl mercury from the consumption of fish that have ever been reported are from Japan and they're from 1960s," Dr. Myers told UPI. The Seychelles study is "one of the largest epidemiological studies to look at this issue. We have not been able to find adverse effects."

Hightower said there is overwhelming evidence to counter the Seychelles study findings. "The Seychelles was one study," she said. "One study does not negate all the other studies."
So perhaps "normal" tuna does not pose a threat, tuna that have fed in polluted waters is another story. There is obviously a lot more to the story than might first appear. One would have to understand where the fish come from that are eaten etc. The point is that the "mercury in tuna" debate is possibly a smokescreen and an alibi for the government allowing it to inject mercury, aluminium and formaldehyde (and god knows what else) directly into the blood streams of millions of people. From childhood vaccinations to smallpox vaccinations to the new and improved flu shots, the government has a plan for each and every one of its "dearly beloved citizens".
Tuna Mercury levels Not Harmful According To FSA UK

May 14, 02

Britain's Food Standards Agency (FSA) Friday advised pregnant women, women intending to become pregnant and children under 16 years of age to avoid eating swordfish, shark, and marlin because of high mercury levels.

The elevated levels of mercury in these large predators, in the form of methylmercury, can affect the developing nervous system and might hamper children's later ability to learn, the agency said.

Tuna, which showed the fourth highest level, had mercury levels at just one third of the others and canned tuna, which uses younger fish and squeezes out oil, is lower still.

The larger predatory fish accumulate higher mercury levels both because they live longer than other fish and because they eat fish that also have mercury deposits.

Mercury mostly occurs naturally, issuing as vapor from the earth's crust, while coal combustion for power is the largest man-made industrial producer. The FSA said large fish would already have had high mercury levels 200 years ago.

The interim advice was issued as the World Health Organization (WHO) researches whether fetuses and children may be a greater risk from mercury than the general population.

The FSA stressed that fish is important to the diet and plays a key role in reducing the risk of heart attacks

Flashback: Smallpox plans sent to states

Federal officials sent states detailed guidelines yesterday for rapidly vaccinating their entire populations against smallpox should the deadly disease return through an act of terrorism.

The smallpox vaccine may be more harmful than beneficial

The American public is being prepared to accept and want the smallpox vaccine. The Center for Disease Control has been telling us that it is "when" not "if" a smallpox outbreak will occur. There are many unanswered questions that the government health agencies refuse to address. This is written to assist you in knowing more about the vaccine and its dangers, the smallpox disease and some of the misinformation. If you are a thinking person, we challenge you to do more research and check out this information, your very life and your family's life may be in the balance. We are only asking you to consider the following information before deciding to take the smallpox vaccine. [...]

Volunteers Key to Smallpox Vaccine Plan

1.3 Million Might Be Needed for Emergency Federal Program

A federal emergency response plan for vaccinating the entire U.S. population against a smallpox attack envisions recruiting at least 1.3 million volunteers to staff health clinics 16 hours a day for a full week. [...]

Medicaid rule changes require child immunizations

Medicaid recipients who don't get their children immunized, keep them in school or take them to the doctor and dentist risk losing federal benefits under new state rules that took effect Tuesday.
Get the vaccine or else! Some might say that people are being coerced in this way in order to protect the population, since obviously there are some irresponsible people that would jeopardise their own lives and those of their children. Perhaps, but have you ever read Machiavelli?
In our Supplement on ethnic specific weapons we have made the case for the likelihood that "the powers that be" have for many years been testing and refining genetically specific "weapons" designed to kill as many people as possible, while at the same time sparing one select group, perhaps. Of course it is possible that left to her own devices mother nature could come up with a virus that would "naturally" kill the entire human race, but it seems that she simply would never get the chance. Those that have appointed themselves "directors" of human evolution make a point of always being "on first". It has become clear that there is no one looking out for the human race, there are no benevolent governments or groups that have our best interest at heart. If we are to wake up and see things as they really are, we must admit that there is no scope for the oft-used protestation, "They wouldn't do that!" The facts point to the reality that they WOULD, and indeed it seems they have been for many years, and plan to very soon.
Let it not be the case that any of us are caught out through ignorance and wishful thinking.
---
See our research in the related topic of
Ethnic Specific Weapons
---
Check out the Signs of the Times Archives
Send your comments and article suggestions to us.
---
Fair Use Policy
Contact Webmaster at signs-of-the-times.org
Cassiopaean materials Copyright ©1994-2014 Arkadiusz Jadczyk and Laura Knight-Jadczyk. All rights reserved. "Cassiopaea, Cassiopaean, Cassiopaeans," is a registered trademark of Arkadiusz Jadczyk and Laura Knight-Jadczyk.
Letters addressed to Cassiopaea, Quantum Future School, Ark or Laura, become the property of Arkadiusz Jadczyk and Laura Knight-Jadczyk
Republication and re-dissemination of our copyrighted material in any manner is expressly prohibited without prior written consent.
.