Hail stones the size of cricket balls flattened about 100 huts, injured three persons and killed cattle in the Bindol gram panchayat area last night.
The storm had started around 9.30pm and grew with each passing minute till it stopped two hours later. A fresh shower of hailstones hit the area again early this morning.
"First came the wind. Strong gusts blew away roofs of tiles and tin. Then came the hailstones. As the night progressed, the size of the stones increased and they came hurtling down, some of them as big as cricket balls," said Narayan Bhowmik, a tea stall owner in Bamua, 20km from here and one of the worst hit areas. The storm left scars across a 9km radius.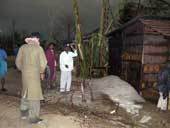 ©Nityananda Sarkar
A heap of hailstones in front of a house in Bindol
Bhowmick said he helped take Mongli Hembram (50), Shyam Baske (40) and Paritosh Roy (40) to the local health centre on his van rickshaw. "All of them had been hit on the head and shoulders," said Bhowmik. He said nine cows and four goats died in the storm. No one from the panchayat or from the district administration visited Bindol today.
Hemo Hembram, 18, said their cowshed, which was completely destroyed, could wait. "When will the next chance to play with ice come," he said while hurling a ball of ice at one of his friends.
Seventy-year-old Budhani Tudu said it was an experience of a lifetime. "We woke up after the storm to see the fields covered in white ice," she said.
The district magistrate of North Dinajpur, Sukumar Bhattacharya, said no estimate of the damage could be made today. "I have heard about the losses, but haven't received any report yet," he said.
Civil defence minister Srikumar Mukherjee, who toured Hemtabad and Karnajhora, which were also affected by the storm, said the main damage was to the standing wheat and corn.
Officials at the Regional Met Office in Jalpaiguri said the hailstorm occurred out of the cloud formation hovering over Uttar Pradesh, Bihar and Gangetic Bengal and approaching north Bengal and Sikkim.
T.K. Chakraborty, the director posted at the office, said: "Hailstorms occur when clouds, because of vertical wind force, gain height and move beyond troposphere to touch the stratosphere. If the clouds are 5km above the earth's surface, considered the freezing level, and reach up to 16 to 18km, they coagulate into ice pellets, which can form into larger shapes and fall with the storm and rain."
"The forecast for thunder squall in the form of a Nor'wester continues for the next 24 hours. The low pressure area is still there and added to it is the cloud formation," the director said. "We can expect storm with a wind speed of 60-80 kmph across the region along with rainfall."
Sporadic rainfall was reported from different parts of north Bengal last night, including Siliguri and Jalpaiguri.