Fierce wildfires raged across Southern California on Tuesday, threatening more than 60,000 homes as night fell and forcing half a million people to flee in the state's largest evacuation.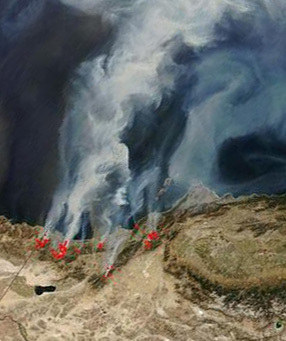 ©Reuters
California's worst fires in four years, driven by hot Santa Ana winds that have not relented for three days, tormented the San Diego area in the south and threatened mountain communities farther north.
Some 1,500 homes and other structures had been destroyed by the fires as of Tuesday evening and the 500,000 people evacuated in their path was the largest in the U.S. since Hurricane Katrina hit the Gulf Coast in 2005.
"I'm worried for my baby, my house, my kids, everything." said Ana Ramirez, 30 and pregnant, who was taking shelter at San Diego's Qualcomm Stadium along with her 4-year-old daughter.
Most of the destroyed homes were in the San Diego area, where four major wildfires burned unchecked and one person was killed on Sunday. Four other deaths were reported among the evacuees and more than three dozen people had been injured, including 18 firefighters.
Firefighters battled flames that shot more than 100 feet high, as they desperately tried to save homes in the fires' path.
As the firestorms raged past nightfall, Gov. Arnold Schwarzenegger asked President George W. Bush to upgrade California's wildfires to a "major disaster," which would trigger federal help.
Bush issued a declaration of emergency early Tuesday. But Schwarzenegger told him in a new letter that "this disaster is of such severity and magnitude that effective response is beyond the capability of the state and local governments."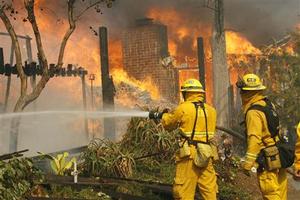 ©REUTERS/Mario Anzuoni
California Department of Forestry firefighters hose down a burning structure near Del Dios Highway in the Rancho Santa Fe area of San Diego, California October 23, 2007.
HUNDREDS OF MILLIONS IN ECONOMIC LOSSES
Schwarzenegger said 68,000 homes, from cabins to luxury villas, were threatened statewide and 10,000 men and women were working the fire lines. More than 300,000 acres (120,000 hectares) have been blackened and the state government put economic losses in the hundreds of millions of dollars.
"We have had three things come together -- very dry areas, very hot weather and a lot of wind. This makes the perfect storm for fire," Schwarzenegger said at Lake Arrowhead, where blazes threatened two nearby mountain communities.
Bush planned to visit the fire-stricken area on Thursday.
Running Springs, a town of about 5,000 people nestled in the San Bernardino Mountains, was surrounded by fire by Tuesday afternoon and thousands of homes appeared in danger, but crews were able to fight back the flames and save most of them.
Firefighters in the Mexican border city of Tecate tried to control fires that sent up black smoke and covered houses and cars with gray ash. Fires also burned on the outskirts of the Mexican city of Tijuana, 20 miles from San Diego.
California power authorities issued a transmission emergency because downed power lines had left San Diego with only 60 percent of its usual supply of electricity.
The hot Santa Ana winds, which have fanned the flames as they blow in to Southern California from the desert, continued to gust up to 65 mph (105 kph) and high wind warnings remained in effect for most of the region until Wednesday afternoon.
Officials were hoping that easing winds and an accompanying rise in humidity would help them gain the upper hand against the wildfires.
San Diego officials said people were evacuating quickly. In the region's last major fire in 2003, 15 people died and 5,000 buildings were destroyed.
Erica Schmidt said friends in San Diego county ignored evacuation orders to safeguard their own homes.
"It bothers me to know my friends are still up there because they can't get out. All the roads are closed," Schmidt said.
Some 8,000 people, including senior citizens from nursing homes, went to the Qualcomm stadium, where the San Diego Chargers football team plays, or to the Del Mar Fairgrounds, famed for its horse racing track. Thousands of horses and family pets were also accommodated.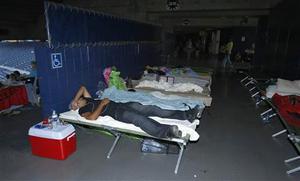 ©REUTERS/Mike Blake
San Diego wild fire evacuee rests at a large evacuation center set up at Qualcomm Stadium in San Diego, California October 23, 2007.
People taking shelter at Qualcomm called it well organized and clean, in contrast to the chaos at New Orleans' Superdome, which was used as a refuge after Katrina.
On Tuesday afternoon, some San Diego evacuees were allowed to return to their communities.
(Additional reporting by Dan Whitcomb and Jill Serjeant in Los Angeles and Marty Graham in San Diego)