After a dreary summer of endless showers and muddy fields, autumn has arrived early with a welcome flourish of red and yellow.
Although the season does not traditionally start until the equinox in another fortnight, some trees have already taken on a warm, coppery hue.
And with experts forecasting a relatively dry autumn with below average wind, the leaves are likely stay on long enough for people to enjoy them.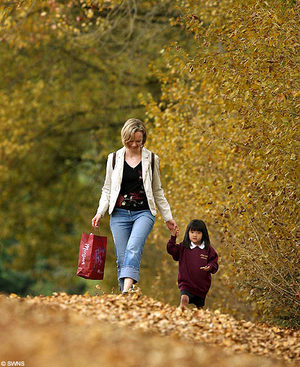 ©SWNS
Four-year-old Ameilia Mykinley kicks her way through the leaves on her way to school with mum Louise.
The mild and wet weather over the last few months has also produced a bumper crop of fruit, meaning a glut of juicy cider apples in southern England two weeks ahead of schedule.
People foraging in the hedgerows for wild berries will also be delighted. Despite the lack of sunshine, fruit such as blackberries, elderberries and sloeberries are thriving.
More than 14ins (362mm) of rainfall fell over the summer, from June to August, making it the wettest in the UK since records began in 1914.
The damp conditions are perfect for several varieties of mushroom and fungi, which have been spotted a month earlier than usual.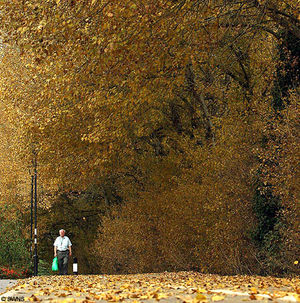 ©SWNS
The trees are already shedding their leaves in St Leonards park in Exeter.
Although many trees across the country are just beginning to tint, in parks such as St Leonards in Exeter, children are already stomping through a thick carpet of fallen leaves.
The Woodland Trust, which monitors seasonal changes in the environment, says trees rooted in the shallow soil of urban parks and tree-lined avenues are often the first to shed their leaves.
This has been aided by temperature highs of 25C(77F) over the last few days, five degrees higher than the time of year.
A combination of cold nights and warm, sunny days are needed for broad-leafed trees to produce their full range of red and yellow colours.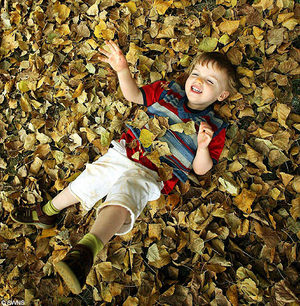 ©SWNS
Two-year-old Howie plays in the fallen leaves in the park.
Chestnuts are traditionally the first to change, followed by hawthorns and maple a few weeks later, while ash leaves is the last to change colour. Oak leaves change colour early in the season, but take several weeks for their coppery colours to deepen.
A spokesman for the Woodland Trust said: "It is very difficult to predict when trees will change colour and depends on a combination of three factors. Temperature during the night, temperature during the day and amount of rainfall."
In some orchards in Kent, apple boughs have split under the weight of their fruit. Growers there hope to press at least 20 gallons of juice from each tree, compared to five gallons in more barren years.
David Squirrel, an apple expert from the Symondsbury Apple Project, said the apples had benefited from a warm blossom season when pollinating activity was at its height.
He said: "It is right across the country and in Kent they were worried that the apples were swelling too much.
"They wondered if they would be too big and have no taste, but the weather seems to have sorted itself out."
Forecasters are predicting this season, which lasts until the end of November, will be several degrees warmer than the UK average of 11.4C (53F).
A Met Office spokesman said: "There will be less frequent periods of very windy weather than is normal for time of year. Average, or below average rainfall is also expected."