LIMA, Peru - A powerful earthquake shook Peru's coast near the capital on Wednesday, toppling some houses in Lima and causing alarmed residents to flee into the street for safety. A tsunami warning was issued for South America's Pacific coast based on the strength of the quake.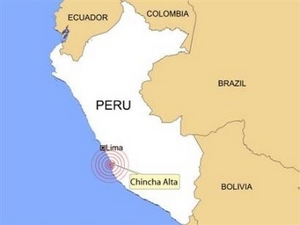 ©Reuters
The U.S. Geological Survey said the 7.5 magnitude temblor hit about 90 miles southeast of Lima at a depth of 25 miles. It was followed by two strong aftershocks that registered at magnitudes 5.8 and 5.9.
There were no immediate reports of injuries. Associated Press reporters said the quake shook Lima for more than a minute and that some homes had collapsed in the city's center.
Firefighters said some street lights and windows shattered in Lima and that hundreds of workers were evacuated from office buildings and remained outside, fearing aftershocks.
The quake also knocked out telephone service and mobile phone service in the capital. Firefighters were called to put out a fire in a shopping center.
Callers to Radio Programas, Peru's main news station, said parts of several cities in southern Peru had been hit with blackouts.
The Hawaii-based Pacific Tsunami Warning Center issued a tsunami warning for the coasts of Peru, Chile, Ecuador and Colombia, and a tsunami watch from Panama to Mexico.
It also issued a tsunami advisory for the U.S. state of Hawaii. The center said it did not know if a tsunami had been generated.
The last time a quake of magnitude 7.0 or larger struck Peru's central coast was in 1974 when a magnitude 7.6 hit in October followed by a 7.2 a month later.
The latest Peru quake occurred in a subduction zone where one section of the Earth's crust dives under another, said USGS geophysicist Dale Grant at the National Earthquake Information Center in Golden, Colo.
Some of the world's biggest quakes strike in subduction zones including the catastrophic Indian Ocean temblor in 2004 that generated deadly tsunami waves.
Associated Press writer Alicia Chang in Los Angeles contributed to this report.
UPDATE
Dozens killed by Peru earthquake
Source: BBC
Date: Thur 16 August 2007, 07:47am
A powerful 7.9 earthquake has hit the coast of Peru, killing more than 70 people and injuring 680 others.
At least 46 people were killed in the province of Ica, about 265km (165 miles) south of Lima, officials said.
In Lima, buildings shook violently during the prolonged tremors, prompting residents to take to the streets.
President Alan Garcia said Peru had been badly hit, but first signs were that the quake was not a catastrophe.
He said he was sending three cabinet members, including the health minister, to the worst affected southern coastal towns.
Low-lying coastal areas in Peru, Chile, Ecuador and Colombia were evacuated after a tsunami alert was issued. The warning was later withdrawn.
The earthquake struck coastal Peru at 1840 (2340 GMT) and lasted for several minutes,
The US Geological Survey said its epicentre was beneath the Pacific Ocean, about 145km (90 miles) south-east of Lima.
Four strong aftershocks ranging from 5.4 to 5.9 followed, the organisation said.
Rush-hour traffic in Lima came to a halt as buildings shook with the force of the powerful tremors and hundreds of people spilled onto the streets.
"I heard quite violent shaking, books falling off the bookcase, a lampshade falling over and pictures falling off the wall, and I went to the safe zone by the lift," the BBC's Dan Collyns in Lima said.
But the full devastating force of the earthquake was felt closer to the epicentre in the southern coastal province of Ica.
Deputy Health Minister Jose Calderon described the situation in Ica, where 650,000 people live, as "dramatic".
The city's mayor, Mariano Nacimiento, said hospitals in the area had reported 46 deaths and 350 injured, but added that the death toll was expected to rise.
The mayor said he had asked the government for medicine, blankets, tents and all help that could be given.
"We're working, visiting areas where there are dead people and for this, the government's role is very important," he told Radio Programas del Peru (RPP).
Local TV reports said many of the dead and injured in Ica had been celebrating evening mass when the church they were in collapsed.
State of emergency
Speaking on national TV and radio, President Garcia thanked God that the earthquake had not caused a catastrophe, as such events had in the past.
"We have declared a state of emergency in the Ica province and we are going this evening to ensure that regional and local governments, civil defence institutions and ministries can spend what they need to, rapidly and immediately, in order to solve the problems that exist there."
The president also ordered police onto the streets of Lima to keep order.
Our correspondent says the feeling on the streets of Lima, a city where one third of the population lives, is that it may have narrowly avoided a major disaster.