A giant wave described by local residents as a "mini-tsunami" claimed the lives of 12 Algerian bathers last week on a beach in the west of the Mediterranean-rim country, officials said Wednesday.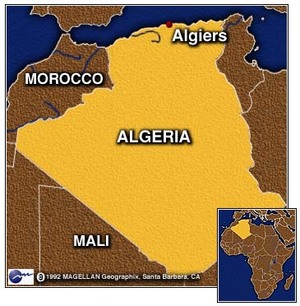 ©MAGELLAN Geographix
Algeria's civil protection agency could give no official explanation for the giant wave that struck a beach near the town of Mostaganem on Friday.
Loth Bonatiro, a chief research scientist at Algeria's Centre for Research in Astronomy, Astrophysics and Geophysics (CRAAG), said he thought the wave could have been the result of conventional weapons' testing.
The phenomenon "could have been caused by a scientific test and one could guess that it was a scientific test of conventional weapons," he told AFP, adding that France, Italy and Spain all conduct these sorts of tests.
"It is however difficult to speak of a tsunami, because such an event is on a much larger scale, while the wave at Mostaganem affected only one beach," the professor said.
A tremor measuring 4.6 on the Richter scale was registered at 2108 GMT in the middle of the Mediterranean basin by an observation centre in the French city of Strasbourg, but not by the CRAAG.
The failure to detect this tremor could have been down to a malfunction of the centre's instruments, said Bonatiro.