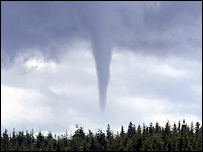 ©BBC
A "mini-tornado" has been spotted on the outskirts of Aberdeen.
The spiral was seen swirling over the Peterculter area at about 1230 BST, with people taking pictures of what they saw.
Local resident Paul Cruickshank was among those who captured the phenomenon on camera.
He told the BBC Scotland news website: "It looked fantastic. It just grew and grew, it was very spectacular, a surprising thing to see."
He added: "The sky was very dark and it stood out. I just happened to be looking out my window."
A crew from BBC Scotland's Landward television programme also captured moving images of the incident.