More than a month's worth of rain has fallen on Stewart Island in the past five days, causing flooding and widespread slips which have left some residents with no access to their homes.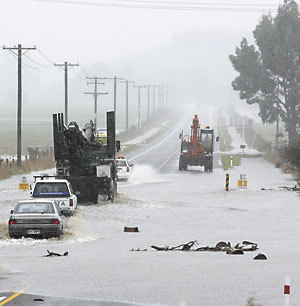 ©stuff.co.nz
Motorists drive through floodwater on State Highway 1 in southern New Zealand.
MetService readings show a record 177mm has pelted the island at the South West Cape since Wednesday, while further north in Oban, 118mm has fallen.
High winds and heavy seas also played havoc, pulling roads into the sea and causing landslips 30m wide.
Heavy seas sank a yacht after ripping it from its moorings near Thule early yesterday morning, while a landslip near the wharf destroyed a car, which was crushed by a falling boulder and tree.
Southland District Council assets manager for roading Russell Hawkes said he knew of several large slips on the island, including one near Golden Bay wharf.
Council staff would travel to the island tomorrow to assess the damage and decide on a course of action.
Stewart Island community board chairman Barry Rhodes said slips along the road to Ackers Point had caused the most problems, completely blocking road access to the five or so homes on the road.
Slips on the Horseshoe Track added weight to suggestions that alternative road access around the island was needed, he said.