Thousands of people are without electricity or water as Britain suffers its worst flooding in modern history.
Submerged areas are bracing themselves for further chaos with water levels not expected to peak until tomorrow morning.
Gloucestershire is likely to be hit by yet more flooding as the River Severn is expected to rise once again in the early hours.
©unk
Severn Trent Water confirmed "at least" 350,000 homes in the county will be without water by this evening.
The peak level of the Thames is expected to travel through Oxford at about 2.45am and Abingdon at about 6.45am.
Environment Secretary Hilary Benn has told MPs the flooding emergency is "far from over".
West London and the Thames Valley could be the next parts of Britain to go underwater as the floods spread east.
Hundreds of homes could be flooded when torrential rain hits the capital in the next 24 hours.
The Environment Agency has issued flood warnings for several stretches of the Thames from Oxford, through Windsor to Shepperton and Teddington.
Police in Gloucestershire have warned that the "unprecedented" crisis has not passed.
Monsoon-like rainstorms have overwhelmed swathes of Oxfordshire, Worcestershire, Warwickshire and Gloucestershire - and insurers have said the final repair bill could top £2bn.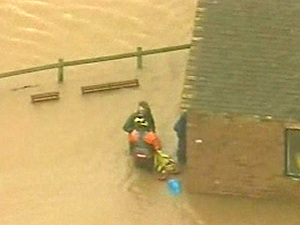 ©unk
The floods, which have hit more than 10,000 homes, have been described as the worst in modern history.
An Environment Agency spokesman said: "We have not seen flooding of this magnitude before. The benchmark was 1947 and this has already exceeded it."
Stranded residents have been evacuated from their houses by helicopter, and massive disruption has been caused to road and rail networks.
Gordon Brown has been to Gloucestershire to see the devastation caused by flooding.
The Prime Minister said: "We are going to be increasing the money that goes to flood and coastal defences so that we can be as well protected as possible in the future."
Police at an emergency services briefing in Gloucester said the water treatment works could be out of action for at least a week - and possibly two before it would be fully operative again.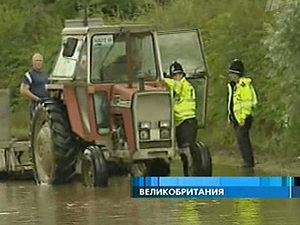 ©unk
This would have serious implications for water supply in the Gloucester, Didsbury and Cheltenham areas, they warned.
In Gloucestershire, members of the armed forces have been taking 600 water tanks into the area while 22 miles of temporary mains are put in place to enable water to be pumped from outside the county.
Emergency crews have been working round the clock to protect electricity substations from the rising waters.
Thousands in Gloucestershire and parts of Herefordshire were left without power after Castlemeads power station in Gloucester was shut down.
The crisis has sparked panic-buying in supermarkets, with shortages of milk, bread, water and petrol all reported.
Thieves have taken advantage of the chaos on the roads by breaking into abandoned cars in Worcestershire.
Upton-upon-Severn, a town in the county, has been completely cut off by floodwater.
Forecasters have said there will be no let-up in the rainfall in the week ahead.
Oxford and then Abingdon, Oxfordshire, are both expected to be hit by deluges, as the rain from Friday's torrential storms works its way off the hills and down the Thames.
Flood sightseers are also causing problems for emergency services by ignoring warning signs and pulling over on the roadside to take pictures.