Unusual concentrations of the mauve stinger jellyfish,
Pelagia noctiluca
, have been discovered off Spain's Balearic Islands, as well as elsewhere in the Mediterranean. It is feared the creatures, which can give a painful sting, will show up on tourist beaches in August.
Pelagia noctiluca
grows up to 10 centimeters wide, and is sometimes also called the nightlight jellyfish because it produces a blue-green luminescent mucus, most often seen as a glow in ships' wakes. But its more common name, mauve stinger, reflects the species' most noticeable effect on people.
Mauve stingers normally live in the open ocean, so they are often seen around offshore islands such as the Balearics. But they approach mainland beaches in late summer when rainfall drops, and freshwater runoff into coastal seas diminishes, making inshore waters more salty and suited to jellyfish.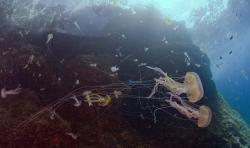 ©Oceana
The numbers of mauve stinger jellyfish (centre-right) in the Mediterranean have increased as fish, which compete for food, have decreased.
Recent droughts have meant saltier inshore waters, meaning these jellyfish have been showing up on Mediterranean beaches in growing numbers in the last few years.
Numbers increasing
The large numbers of mauve stingers off the Balearic Islands were filmed by the Spanish marine conservation organisation Oceana at depths of 130 metres, using an uncrewed, remote-controlled submarine.
The group has also seen swarms of them elsewhere in the western Mediterranean, including the Aeolian Islands north of Sicily.
Ricardo Aguilar, a marine scientist with Oceana, says the jellyfish accumulate naturally as a result of being swept together by ocean currents. But he thinks their overall numbers are increasing.
"Normally the jellyfish die off over the winter," Aguilar told
New Scientist
from aboard the group's research catamaran, the Oceana Ranger, off the Balearic Islands. "But in 2006 we saw them as late as October and November. They may have bred all year."
Marine imbalance
Aguilar thinks the warming of the Mediterranean waters has favoured the jellyfish. So has the decimation of their predators, such as sunfish, trigger fish and loggerhead turtles, by fishing vessels.
"But it's also just the general reduction in marine vertebrates," largely through overfishing, he says. "Where vertebrates fall, invertebrates increase. We've seen more crustaceans too."
Small fish compete with the jellyfish for food, so fewer fish means less competition. The jellyfish also eat fish larvae, so the swarms are bad news for the Mediterranean's beleaguered fish stocks, as well as for holiday makers on its beaches.
Oceana says it will share information on sightings with marine patrols that provide jellyfish warnings to tourist areas.