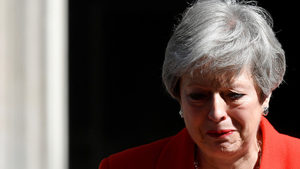 Time to say goodbye: 'Brexit' claims its second Tory PM
What fetters the mind and benumbs the spirit is ever the dogged acceptance of absolutes.
- Edward Sapir
Recent Comments
If the aliens [to be] invading Earth are demonic in a similar manner than the ghastly spooks at the Skinwalker Ranch: Most Hollywood movies have...
---
Moving from one dream to another is not waking.
---
My God! Look at that picture! As I understand it, there are harder climbs and huge mountains left unclimbed by all but yetis. Why not go to one of...
---
Like Doctors Without Borders, (as I recall), Greenpeace, (id.), et al., Amnesty International long ago had its mission and message compromised. I...
---
"cryptic word salad"? - Key to DNC 'source' 'hack' '187' = Assange has evidences that the DNC was not hacked - the data was obtained by Seth Rich,...