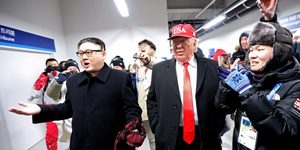 Did The Donald and Rocket Man secretly meet at the Winter Olympics in PyeongChang?
When you philosophically oppose an entire power elite, you cannot help but sound like a conspiracy theorist. Social power is by nature a conspiracy.
- Tom N
Recent Comments
Why Sun is not visible at all times, because you know it cant hide behind horizon since there is no curvature. Can be easily proven by going to an...
---
It's all about who will have control over the most precious commodity on earth during a Grand Solar Minima induced ice age.
---
"Billions of US taxpayers dollars were wasted once again on supporting the same terrorist groups that attacked the USA on 911." For purposes of...
---
Hmmm.... I call complete BS on all climate discussions. All of the various agencies refuse to release their raw data, especially the siting of the...
---
Some great points, but suggest a thread on flat earth is not the place to discuss paradoxes of classical physics, thats deserves a separate post....