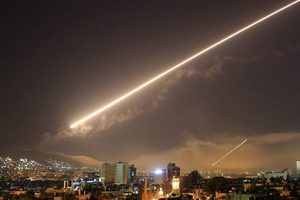 Syrian air defense systems protecting Damascus - the oldest continuously-inhabited city on Earth - from Western airstrikes, 14 April 2018
All truths are easy to understand once they are discovered; the point is to discover them.
- Galileo Galilei
Recent Comments
If you looked up the brags of the MIC about all the magical things these ships could do, you will, I'm certain, see a perfect example of the US...
---
I'm surprised anyone got off their phones long enough to take pix.
---
oh look, an F35 that almost floats!
---
Any well designed missile should automatically, by default, detonate, for the exact same reasons that Russia flew them home for inspection and...
---
TASS has no official confirmation of this information from the Russian defense ministry Translation - it never happened!