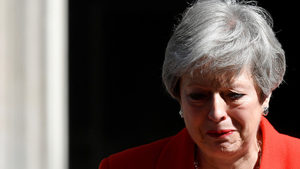 Time to say goodbye: 'Brexit' claims its second Tory PM
"Neither brutality, nor cruelty nor torture will ever bring me to ask for mercy, for I prefer to die with my head unbowed."

The first, and last, democratically-elected leader of the Congo, before he was beaten to death by CIA agents just 6 months later, in January 1961
- Patrice Lumumba
Recent Comments
HERE AND NOW Here is another thing to think about: The 'servant of humanity' who serves faithfully, the king, is punished. But the king, who...
---
THE LOYAL 'OPPOSITION' Journalism (ie., reporting on 'truth') is a dirty field. Very dirty. In fact, in today's 'playing field' (ie., worldly...
---
The object did not travel around the sun, it took the fastest route it could take to return from where it came. Exactly what a probe would do....
---
Pansy assed liberal "victims" are like a shit stain in your underwear. They are only there because you didn't clean good enough. They are the...
---
Pelosi has stayed WAY too long. She's about as effective as Adam Schiff is attracting females.