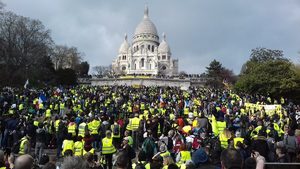 Acte XIX: Sacré-Coeur, Paris, 23 March 2019
There is one thing stronger than all the armies of the world, and that is an idea whose time has come.
- Victor Hugo
Recent Comments
Police interviewed this guy and approved his newly acquired booty of two semi-automatics, two shotguns & a lever-action gun [Link]
---
Well, the SPLC is said to have a war chest of upwards of $450 million so even if all of its officers and staff resign or are fired, I expect Gavin...
---
Nunes Readies Criminal Referrals [Link] #astrology
---
and the volcano in hawaii? or was that just to provide steam for geo-engineered storms? the gulf of mexico horizon oil blast? to disable the gulf...
---
Karma's a bitch like they say, when you are one.