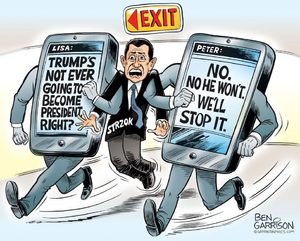 Strzok has left the building
What is truth anyway? The truth is the essence of something, its natural state, something as it really is. It is really a quest for love, because to truly love something we must know it for what it really is. Perhaps we can sense in an unconscious way that there is a deeper truth to everything and everyone, and we are led to search for the truth about it, so that we can truly love it for what it really is.
- Joe Quinn
Recent Comments
This is not a study, it's a fantasy conjecture.
---
Sadly, it was not India alone. It was the world. And for those who believe it ended, I suggest you begin looking at the media. It is easier to...
---
I strongly recommend people look at the media associated with "The Other America". Shalom
---
Land of the Free! Home of the Brave! Shalom
---
Can you imagine what will happen, if a foreign group or country begins forking money to organizations in America to get rid of the American...