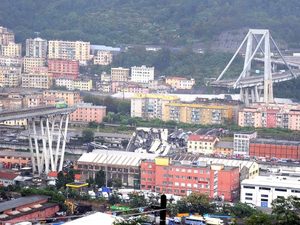 14 August 2018: Morandi Bridge in Genoa, Italy, collapses during a storm, killing 35 people
The eye sees only what the mind is prepared to comprehend.
- Robertson Davies
Recent Comments
Same social engineering.. 'divide and conquer'.. this time part of the script for global chaos generation to 'ou't the OWO and install their NWO....
---
The choir should already be prepared for that day as it may/can literally change overnight or a weekend. Other than that, enjoy watching the show...
---
The US doesn't have the ability to build state of the art weapons anymore, mainly because of greed, corruption, bureaucracy, and psychopathy in...
---
"They could do anything on the back of this anti-Russian hysteria, they could shoot themselves in the foot or head," he suggested. Well, the self...
---
These people make Ali Baba look good!