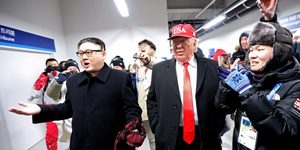 Did The Donald and Rocket Man secretly meet at the Winter Olympics in PyeongChang?
"In keeping silent about evil, in burying it so deep within us that no sign of it appears on the surface, we are implanting it, and it will rise up a thousand fold in the future. When we neither punish nor reproach evildoers, we are not simply protecting their trivial old age, we are thereby ripping the foundations of justice from beneath new generations."
- Aleksandr I. Solzhenitsyn
Recent Comments
"that the near-consensus among scientists on human-caused climate change"... Hold on a minute Mr Pinker! As a SOTT reader (a growing minority...
---
I will confess. I had to look up a lot of words while reading this. and when I did.. I made another run for popcorn! :P
---
Well, I always new that. The opioid epidemic actually pales in comparison to the vaccine damages, but still those harms are permitted to be...
---
Nice costumes. It's a nice idea.
---
IT'S great to see a comedian, more a black comedian, who hasn't SOLD HIS SOUL to the devil and the illuminati handlers!! THIS LIBERAL mamby pamby...