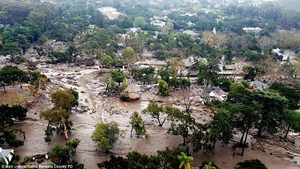 9 January 2018: Mudflows cause at least 20 deaths in Montecito, California
Each of us tend to think we see things as they are, that we are objective. But this is not the case. We see the world, not as it is, but as we are - or as we are conditioned to see it.
- Stephen. R. Covey
Recent Comments
Sounds about right. The "strange" weather patterns arent so strange after studying up on weather modification/manipulation programs that have been...
---
No, because it's just propaganda. If people react to propaganda like it's r-e-a-l-l-y h-a-p-p-e-n-i-n-g, m-a-a-n, then all they've done is aided...
---
Huh... Does J Martin write for Russia Today?
---
Good article. I knew the better eat the box quote, but lost the source for it some years ago. Also the rice waffles have to go? :(
---
No, don't spellcheck your headlines. If you've got someone on your team that can't spell, throw them off the team. Also, who gives a shit about...