About DonaldJHunt
Name: Don Hunt

SOTT editor Don Hunt has been working on SOTT since 2004. Don was the author of the weekly Signs of the Economic Apocalypse series that ran for four years during the run-up to the financial crash of 2008. He has done extensive graduate work in European history and is now employed in the software industry. Don's interests include politics, history, culture, the economy, and health.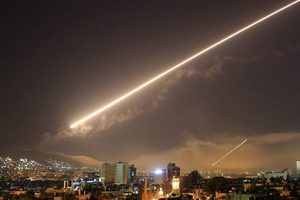 Syrian air defense systems protecting Damascus - the oldest continuously-inhabited city on Earth - from Western airstrikes, 14 April 2018
If you look for truth, you may find comfort in the end; if you look for comfort you will not get either comfort or truth only soft soap and wishful thinking to begin, and in the end, despair.
- C. S. Lewis
Recent Comments
Good video presentation. Thanks
---
like was said before it was all staged for the people nothing more
---
Wow! A personal death wish and a backhanded compliment all in the same thought. Bail out guys.
---
Would be better to throw a tantrum, call him names, than get in a fist fight.
---
Yikes...born and raised in Chiraq...back in the '80's, an entire week of -60 with the wind chill...nice in the summer there, sucks the rest of the...