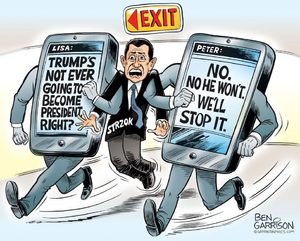 Strzok has left the building
Mystery creates wonder, and wonder is the basis for man's desire to understand. Who knows what mysteries will be solved in our lifetime, and what new riddles will become the challenge of the new generations.
- John Keel
Recent Comments
They dont want to cure hunger they want to generate more
---
For only $11.95, you can download a .pdf copy of the study and then determine how much exhaustively irrelevant silliness was poured into its...
---
Hmmm 33 attendees. The same number of levels in Freemasonry. Is there more to this? What do the parents have in common? Is Putin behind this...
---
The world should be worried. This is a dangerously psychopathic governmental mafia that consider themselves above international law & human...
---
They subtracted CAN from Extraversion to get results, as the Hare checklist is too "costly". Cool, I guess, but remember being messy, happy and...