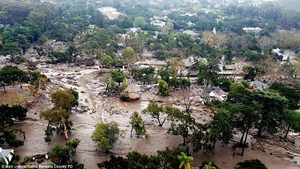 9 January 2018: Mudflows cause at least 20 deaths in Montecito, California
People convince themselves of their own lies, becoming victims of their own inventions as they begin to direct their lives by standards of behavior, ideas, feelings, or instincts which do not correspond to their inner reality. What is truly serious in this matter is that the individual loses all points of reference regarding what comprises truth, and what comprises lies. He becomes used to considering as true only that which is convenient for his personal interests; everything that is in opposition to his self-esteem or in conflict with already established prejudices, he considers false.
- John Baines
Recent Comments
Climate change is obvious. Debating it is such a waste of time. But stalling the debate is a strategy, obviously. But WHAT are the real causes?...
---
The US is a desperate empire that it knows it is failing big time and they are lashing out at every turn. America is like the cornered animal and...
---
Some interesting questions ... Has anybody but me noticed how strange is a press conference under armed security? Was the armed security there to...
---
How many minutes of sun in Seattle? Not many...
---
Born and raised there...Chicago has always had cold, crappy winter weather, you get used to it, but the great Latino infestation that began in...