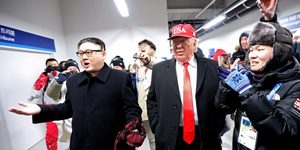 Did The Donald and Rocket Man secretly meet at the Winter Olympics in PyeongChang?
"In keeping silent about evil, in burying it so deep within us that no sign of it appears on the surface, we are implanting it, and it will rise up a thousand fold in the future. When we neither punish nor reproach evildoers, we are not simply protecting their trivial old age, we are thereby ripping the foundations of justice from beneath new generations."
- Aleksandr I. Solzhenitsyn
Recent Comments
They're "ready" for war with China, eh? With what toughened, disciplined, dedicated, and patriotic soldiers are they "ready"? Is it the...
---
Following on my comment about Leonard Cohen, and somewhat on-topic here, I did a little digging to see if Miles Mathis had written anything. Miles...
---
Mark Twain (Aka- Samuel Clemons) Is my ancestor. I love to read quotes from him, as I often find them in parallel with my own thoughts. :)
---
Much of that is true. How many times have I heard a woman say to a friend about a guy after a first date, "He's too nice"? Probably about a...
---
Admirals and generals are admirals and generals. They obviously have to say what they have to say. It is however discouraging to see how the...