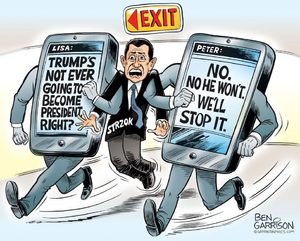 Strzok has left the building
Mystery creates wonder, and wonder is the basis for man's desire to understand. Who knows what mysteries will be solved in our lifetime, and what new riddles will become the challenge of the new generations.
- John Keel
Recent Comments
"New method improves DNA barcodes" Has this begun helping the 'scientists' understand the reason the DNA of the fly (can't instantly recall which...
---
Check the charts. Look at the regression of the sea. For instance - Ur of the Chaldees was a coastal city/town when formed. Today, it is 200 miles...
---
It's called regressive genetics. The organ trade, and the sought after melanin-based escapism, will not help. Shalom
---
"California police shoot down bill limiting lethal force" James Bond had the 007 'entitlement' to kill the one man he only ever killed. The police...
---
Listen, as little boy, I cried when JFK, and MLK Jr were assassinated/slaughtered. And yes, there is the right to speak about them. But what about...