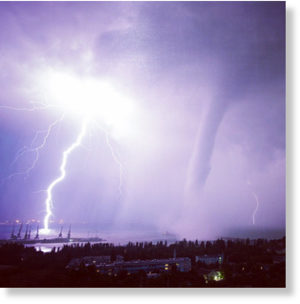 Large waterspout and lightning off Feodosia, Crimea peninsula, Russia. Sept 6th 2018.
Given that China was arguably the leading power in the world from c. 1100-1800, and was certainly the leading power in the East Asian region, one would anticipate that the smaller powers in that region would have balanced against it. But this in fact did not happen. The reply might be in turn that this was because China was the kingpin within the international tribute system, and was therefore an imperialist power. But arguably this system was neither imperialist nor could it be explained through the 'conventional practices' associated with Western great power politics.
- John M. Hobson
Recent Comments
THE RUSSIAN PLANE WAS NEVER MISTAKEN TO BE ANYTHING AT ALL, THEY ARE PROVOKING OUR RUSSIAN FRIENDS INTO A MUCH LARGER BATTLE, ONE THEY CAN NEVER...
---
Hate speech controls are more to do with sheep herding. i guess they'll be rolling out the one world government soon. They just have some pesky...
---
before starting to point the finger and begin the blame game, why dont you, the high and mighty USA look in the mirror, YOU DROPPED THE BOMB 2X ON...
---
I, as many of my countrymen, hold out hope that Trump will prevail over this injustice, and we get some dignity back as a nation. The FBI has...
---
What if this was just a scale model of the larger sphinx in Giza. Kind of like an architect produces a scale model of a building. To see how it...