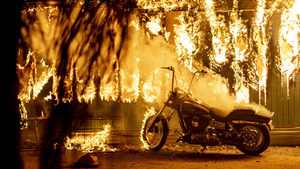 The Woolsey Fire in Malibu, California, November 10, 2018
He who passively accepts evil is as much involved in it as he who helps to perpetrate it. He who accepts evil without protesting against it is really cooperating with it.
- Martin Luther King, Jr.
Recent Comments
Monkeyun caught in the act. It works out' but I'll bet it never works. Lets foolish whites it hates pay his way, while he laughs his way to cash...
---
Cells do not "have" memory - they ACCESS memory, which is non-material. Whether you call it "spirit", "consciousness", or whatever, it persists...
---
Welcome to the new America where you're guilty until proven innocent by the social media masses.
---
People disgust me! How stupid can we be? I guess that I will have to go back to old school and raise a few pigs and a cow or two, for survival.
---
The applicable acronym in traffic-death investigations is THE - nothing left of the decedent but Teeth, Hair, and Eyeballs.