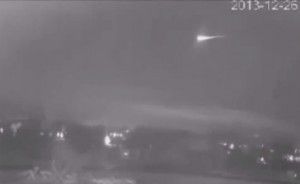 Residents in the Brainerd lakes area reported seeing flashes of light streaking across the sky and hearing a boom that rattled homes and buildings, and meteorologists say the reports are consistent with a meteor event.
The reports started flowing in to authorities on Friday between 9:30 p.m. and 10:30 p.m., the
Brainerd Dispatch reported
. Some residents said they saw a turquoise streak light up the sky, and others say a bright light illuminated their homes, even darkened rooms where the drapes were closed.
There's been no confirmation of a meteor, said Kevin Kraujalis, a meteorologist with the National Weather Service. However, the reports seem consistent with what happens when a meteor enters the atmosphere, he said.
"There's no other explanation," Kraujalis said. He added that there were reports of meteor sightings the previous night in southern Minnesota and northern Iowa.
It's possible there will never be confirmation. If there were a meteor, it may have burned up completely in the atmosphere. If it broke into pieces, the fragments might never be found, particular since the sightings occurred in a rural area that's not densely populated.