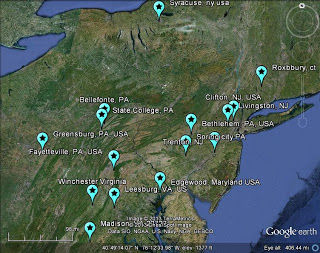 Initial Meteor Report
s
26 May 2013 - Jane Meyerhofer, Leesburg, VA. 21:00
5 seconds duration. East to west direction. Green/white color. Brighter than Venus. Broke into several pieces. Smaller than the moon but way bigger than a planet.
26 May 2013 - Alexander Eichenlaub, Bellefonte, PA 21:03
3 seconds duration. SE-NW direction. Pink/purple color along with a 'pop' sound. Same brightness as Venus. Fragmented into three pieces at the end of its trail. There were four witnesses. Not sure if the popping sound is related.