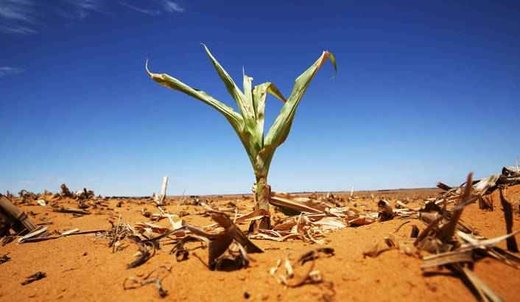 South Africa's national weather service has announced that the country is experiencing the lowest rainfall and driest summer in more than 110 years. Adding that the country suffered its driest year on record in 2015, threatening food security.
According to the weather service, average rainfall was 403 mm, about a third less than the 608 mm annual average and the driest since records began in 1904.
The agricultural sector is being hammered by weeks of heat waves that have scorched grazing land, forcing livestock owners to kill or sell animals.
The rural farming town last saw rain on December 15 and has had a severe water shortage for the past three months, with residents having to queue for water. Large parts of the country are facing their worst drought and highest temperatures in decades.
Africa's most advanced economy, a maize exporter, may need to import as much as 5 million tonnes this year, roughly half of its requirements.
A farmer in the maize-producing town of Hoopstad,Chris Skoenwinkle said they are two months late in planting.
Agricultural analysts said the cost of maize imports to make up for lack of crops will be a big burden.
"We've got to import about, in the vicinity of about four million tonnes of maize if it doesn't rain and the rain just stays away. That means we will have to import about 12 billion rands worth of maize," said agricultural economist Ernst Janovsky.