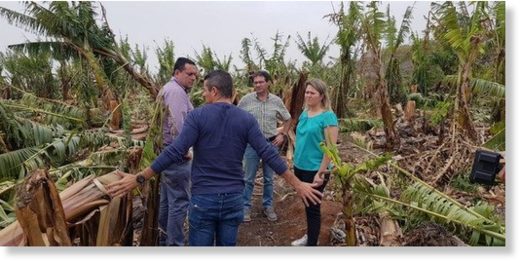 Many crops facing a "lost year"
The assessment of the damage caused by the wind and calima in the Canary Islands is already underway. We will still have to wait a few days to know the full extent of the damage,
but the first impressions of the agrarian leaders point to a heavy impact on all crops grown in the open ground, especially on bananas and potatoes, which in many cases will be facing "a lost year."
For some fruit crops (those cultivated in the places most affected by the wind), not only may the current harvest have been lost
,
but the next campaign is also at risk.
In certain parts of the islands, the effects of the storm on the banana plantations resemble those caused by the tropical storm Delta in 2005, says Javier Gutiérrez, general secretary of the Association of Agricultural Producers and Livestock Farmers of the Canary Islands (Asaga Canarias). In Tenerife, this applies to the farms located in the Orotava Valley, although also to those in part of the south, as well as in La Palma
. The leader of Asaga reports that many banana plantations will have to be uprooted and sown again (if the companies that supply in vitro plants have sufficient stocks), "with the investment that this entails."
As for potatoes, the most affected areas are those in which the dry weather had not yet made such a dent, since the planting had been delayed in the places where it had not yet rained. "Those have been completely blown away," said Delgado, who fears a reduction in the production that "will come close to 50%." In higher altitude areas, where the cold delays the plant's development, the impact is more limited.
Green leafy vegetables (escarole, lettuce, etc.) have been especially hit by the impact of the suspended dust in Gran Canaria,
says the island's secretary of the Coordinator of Agricultural Producers and Livestock Organizations (COAG), Juan Antonio Hernández, who pointed out that
tomato crops in the municipality of La Aldea have also been affected by the situation.
The windstorm has caused considerable damage to infrastructure: walls, windbreaks and greenhouses. The general secretary of Asaga warned that repairing them will bring an "extra cost" that probably won't be covered by insurers.
Avocados have also been harmed, partly because they are in the middle of the flowering period. The next harvest may thus have been compromised.
Source: eldia.es