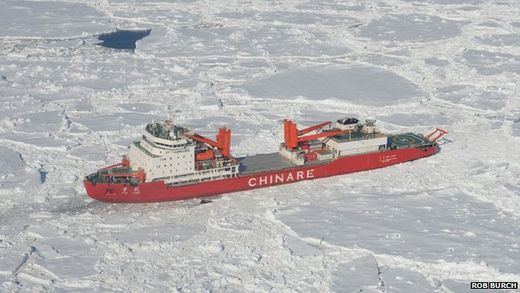 The sorry saga continues.
3 Jan 2014 - The Chinese icebreaker that helped rescue "climate change" researchers from a Russian ship trapped in Antarctic ice found itself stuck in heavy ice on Friday.
A helicopter from the Chinese Snow Dragon plucked the passengers from the icebound Russian vessel - the
Akademik Shokalskiy
- to an Australian icebreaker late on Thursday.
But on Friday afternoon, the crew of the Chinese icebreaker said they were worried about their own ship's ability to move through the heavy ice, the Australian Maritime Safety Authority (AMSA) said.
The Australian icebreaker carrying the rescued passengers, the
Aurora Australis
, has been instructed to remain on standby in open water in the area "as a precautionary measure", the rescue agency said.
The Chinese icebreaker got within sight of the
Akademik Shokalskiy
on Saturday, but turned back after failing to break through the ice, more than 3 meters (10 feet) thick in some places.
A French flagged icebreaker also tried to help, but abandoned its efforts because of strong winds and heavy snow.