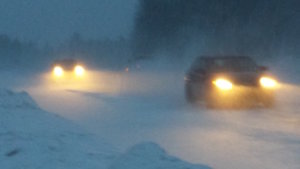 Environment Canada says a major winter storm is expected to sweep into parts of southern Ontario and southern Quebec on Tuesday, bringing heavy snow to some areas and freezing rain elsewhere.
Toronto, Hamilton, Montreal and Quebec City are under winter storm warnings. Windsor is under a snowfall warning, while Ottawa is under a winter storm watch.
Parts of Quebec including Montreal and Quebec City could get more than 30 centimetres of snow.
Environment Canada has issued a series of winter storm warnings and watches that cover a large swath of southern Ontario and southern Quebec.
The storm, travelling north from central United States, is expected to bring snow to southern Ontario on Tuesday afternoon and southern Quebec on Tuesday evening. Snow in Quebec will intensify overnight and continue Wednesday.
Environment Canada says drivers should be prepared for messy conditions.
"There may be a significant impact on rush hour traffic in urban areas," it says.
Freezing rain may hit near Lake Erie
Environment Canada says Toronto could get two to five centimetres of snow Tuesday afternoon and 10 to 20 centimetres overnight. The snow is expected to stop early Wednesday.
Windsor is forecast to get about 15 centimetres of snow between Tuesday and Wednesday mornings.
Strong winds from the northeast with gusts up to 70 km/h will cause blowing snow in exposed areas and along the Lake Ontario shoreline. Areas near Lake Erie may also get several hours of freezing rain on Tuesday night.
People in parts of Quebec, including Montreal and Quebec City, are warned to expect hazardous winter conditions.
Environment Canada said that if drivers must travel, they should keep others informed of their schedule and carry an emergency kit and mobile phone.