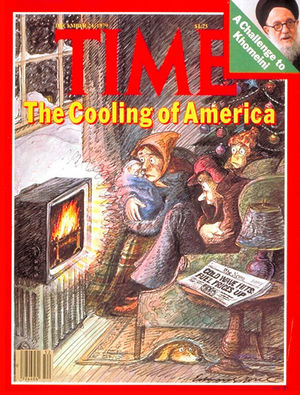 Comment: This article was originally published in Time Magazine on June 24, 1974. Now, considering the revelations about "Climategate", perhaps we need to return to what was known before greed and manipulation took over science?
In Africa, drought continues for the sixth consecutive year, adding terribly to the toll of famine victims. During 1972 record rains in parts of the U.S., Pakistan and Japan caused some of the worst flooding in centuries. In Canada's wheat belt, a particularly chilly and rainy spring has delayed planting and may well bring a disappointingly small harvest. Rainy Britain, on the other hand, has suffered from uncharacteristic dry spells the past few springs. A series of unusually cold winters has gripped the American Far West, while New England and northern Europe have recently experienced the mildest winters within anyone's recollection.
As they review the bizarre and unpredictable weather pattern of the past several years, a growing number of scientists are beginning to suspect that many seemingly contradictory meteorological fluctuations are actually part of a global climatic upheaval.
However widely the weather varies from place to place and time to time, when meteorologists take an average of temperatures around the globe they find that
the atmosphere has been growing gradually cooler for the past three decades.
The trend shows no indication of reversing. Climatological Cassandras are becoming increasingly apprehensive, for the weather aberrations they are studying may be the harbinger of another ice age.