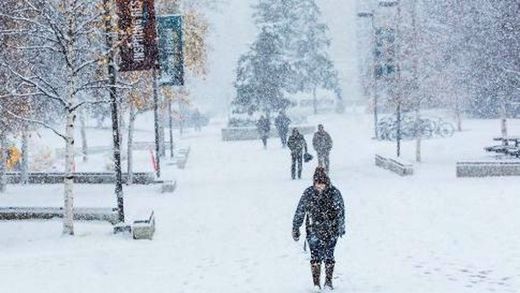 Fall's arrival may have been greeted with a collective warm shrug of the shoulders in the Lower 48 states, but Alaskans have already broken out winter coats.
Officially, 6.7 inches of snow blanketed the city of Fairbanks Friday, turning the city into a winter wonderland just days into fall. Not only was this the city's first measurable snow of the season, but this was
the city's third heaviest calendar-day September snow on record
, topped only by Sep. 13, 1992 (7.8 inches) and Sep. 29, 1972 (7 inches). This was the city's heaviest September snow event since a four-day, 17.3-inch snow blitz from Sep. 11-14, 1992.
Fairbanks only averages 1.9 inches of snow during the month of September. Two observers in College Hills north of downtown Fairbanks measured 9 inches of snow as of Friday afternoon, according to the National Weather Service.
The Alaska DOT reported about 10 inches of snow in the hills near Nenana west-southwest of Fairbanks along the Parks Highway, the primary link between Fairbanks, Denali National Park and Anchorage.