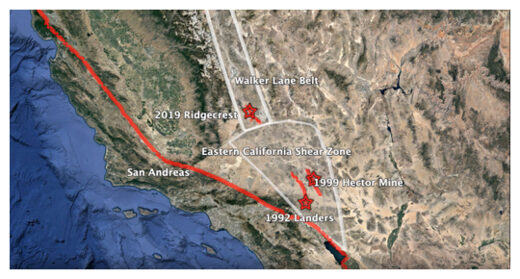 SOEST
Earth Sciences
professor
Bridget Smith-Konter
and graduate student Lauren Ward co-authored a study published recently in
Science
that
revealed unusual surface deformation associated with the 2019 Ridgecrest earthquake in the San Andreas Fault area of California.
Watch the video below.
The research team, led by scientists at the Scripps Institution of Oceanography, analyzed satellite data and discovered hundreds of previously unmapped fractures surrounding the 2019 Ridgecrest earthquake sequence.
Most deformation associated with an earthquake is, not surprisingly, in the same direction as the fault rupture.
However, the researchers found areas of deformation associated with the 2019 event that moved in the opposite direction.