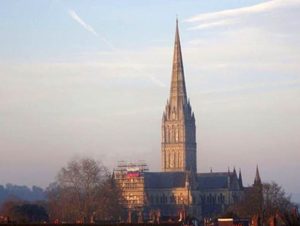 Salisbury Cathedral, 17 February 2019. Did you know? The spire is 123 meters tall, and famous throughout Europe...
The spirit of liberty is the spirit which is not too sure that it is right; the spirit of liberty is the spirit which seeks to understand the minds of other men and women; the spirit of liberty is the spirit which weighs their interests alongside its own without bias; the spirit of liberty remembers that not even a sparrow falls to earth unheeded; the spirit of liberty is the spirit of Him who, near two thousand years ago, taught mankind that lesson it has never learned, but has never quite forgotten; that there may be a kingdom where the least shall be heard and considered side by side with the greatest.
- Judge Learned Hand
Recent Comments
The image, at first glance, can appear to be a bent over (to the left) person, feeling their way in the darkness. (If you have to, cover up the...
---
"...images of interesting, intriguing, or visually attractive objects..." used for propaganda and public indoctrination. Every press release...
---
Poot lady. I'd have to guess a dog pack. R.C.
---
Neptune @ ~2.8 BILLION miles from Earth; Saturn roughly the half-way point between the two. Unless Hippocamp's shape is spherical, it is debris...
---
I like the dry humor of the commenter. R.C.